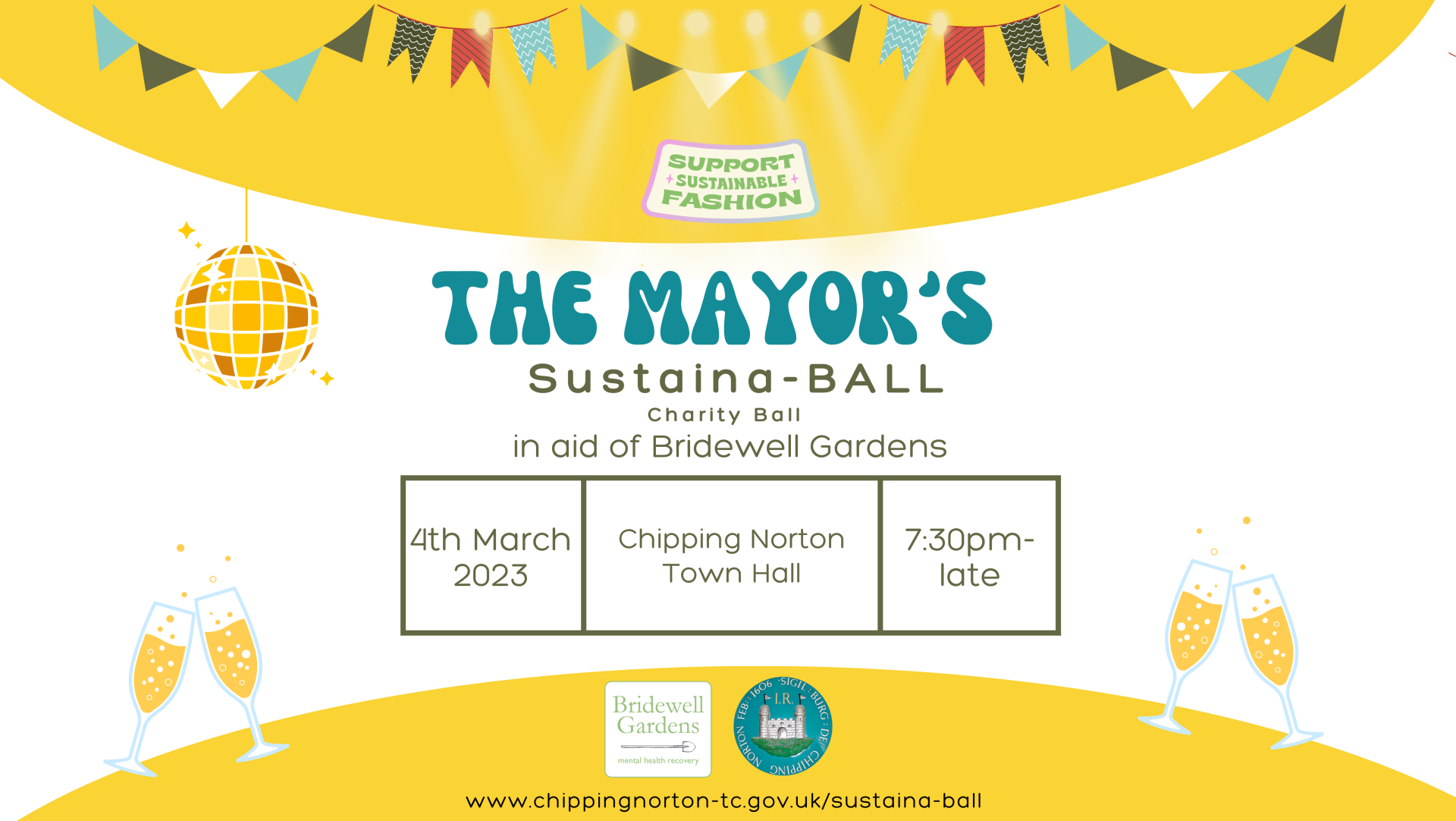 It's the Mayor of Chipping Norton's Charity Fundraiser 2023 – and its Dress Your Best – but with a sustainable twist! The SustainaBALL 2023!
The Mayor of Chipping Norton, Cllr Sandra Coleman would love to invite you to the 2023 Charity Fundraiser to help raise funds for her chosen charity, Bridewell Gardens. Bridewell Gardens work with people who are recovering from enduring mental health issues, using the working environment of gardening through horticultural therapy.
We hope to encourage our community to have a great time partying in a sustainable fashion. There is a cost of living crisis throughout the UK, and who needs to spend loads of money of new party outfits, when we could be putting that money towards our weekly shop, or our gas and electric. We are offering a 2-tiered ticket price for the event – where you can get a discounted ticket if you pledge to wear clothing from:
Charity Shop (Proof of Purchase Required on the door)
Your own wardrobe that has been worn at least once before (Photo evidence Required on the door)
A Hire Shop (Proof of Hire Required on the door)
The evening is all about sustainability, as we endeavor to re-use, recycle and create less waste, the evening will include:
Wine and Canape Reception with the Mayor of Chipping Norton
Cocktail style dining with sharing platters using sustainable sources from Waste2Taste
Dress Your Best for Less competition and parade
Raffle with great prizes from local and/or sustainable businesses
Live music and entertainment from professional performers with a sustainable edge!
Join the Mayor of Chipping Norton for the first ever sustainable Chippy Charity Fundraising Ball where you get to party for less and waste less – all whilst raising more funds for Bridewell Gardens, supporting people in our community to better mental health and employment.
Tickets
Dress for less tickets are £25 plus booking fee
I'm wearing new tickets are £40 plus booking fee