Chipping Norton Town Council is calling on residents who are passionate about their community to stand in the local elections on Thursday 4th May 2023.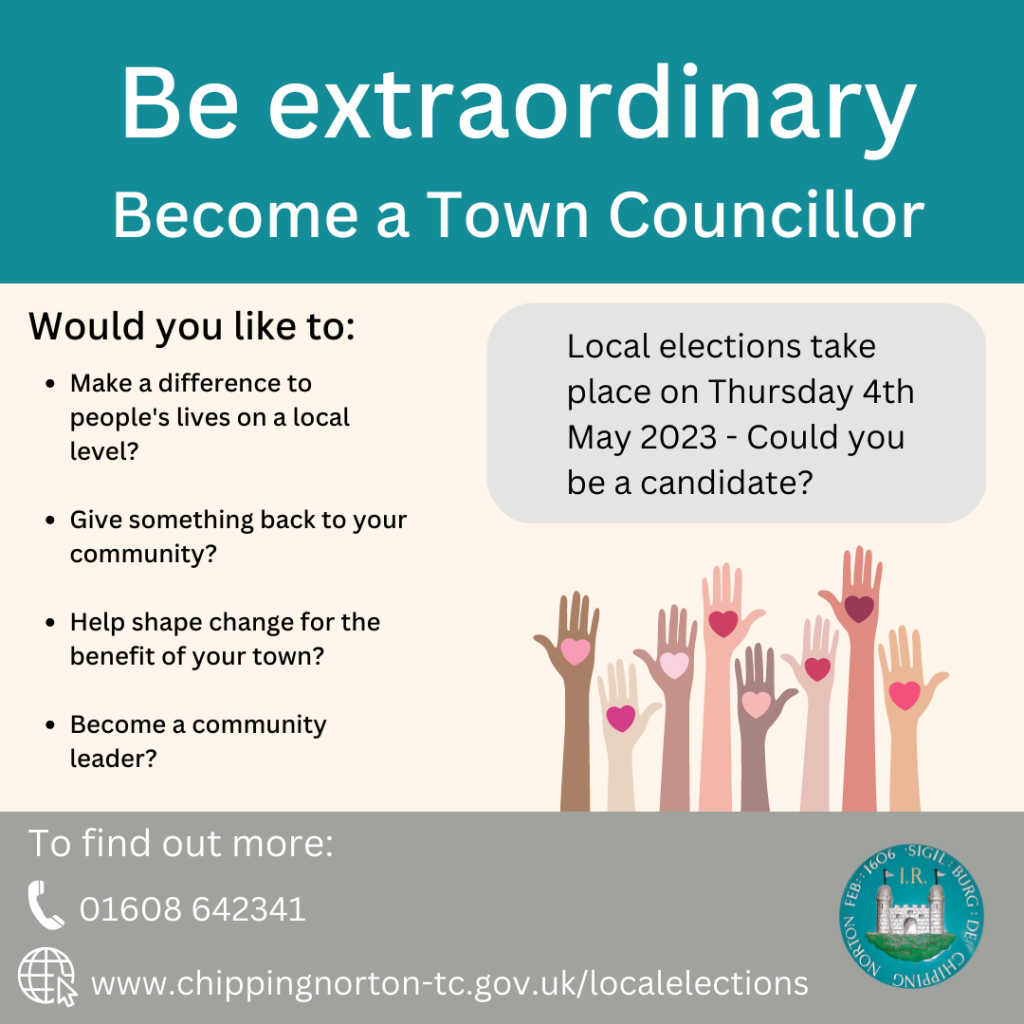 What does a Councillor do?
Councillors are the champions of their community and give residents a voice on the decisions the council makes. Becoming a councillor will allow you to make a real difference in your community by engaging with residents, local groups and businesses to find out their needs; making decisions on which projects, functions and services the council should take forward and getting involved locally to ensure the services are meeting your community's needs.
How much time per week?
The National Association of Local Councils (NALC) research found that councillors put aside, on average, three hours per week for council work. Experienced councillors may be up to ten hours per week. This often included attending meetings, engaging with residents and speaking on behalf of the council to other bodies.
Who can be a Councillor?
There are only a few rules to stand for election. You must be:
British or a citizen of the Commonwealth or European Union
At least 18 years old
Registered to vote in the area or have lived, worked or owned property there for at least 12 months before an election.
How to apply
Information on how to obtain and return nomination papers will be available in March 2023.
Below are some useful documents:
How can I find out more?
Online Information Sessions
Free information sessions are being held online (via Zoom) for anyone interested in becoming a Councillor. They will include a short introduction covering eligibility, skills, expectations and some basics about life as a councillor, followed by open question time. There is no need to book please follow the following links:
Useful Websites:
Electoral Commission – The independent body which oversees elections and regulates political finance in the UK.
National Association of Local Councils (NALC) – A membership organisation and the only national body representing the interests of local (parish and town) councils.
Oxfordshire Association of Local Councils (OALC) – Provides advice and information for local councils in Oxfordshire, and training for councillors and clerks. OALC represent local council interests through partnerships with other local and regional agencies in the public, private and voluntary sectors.