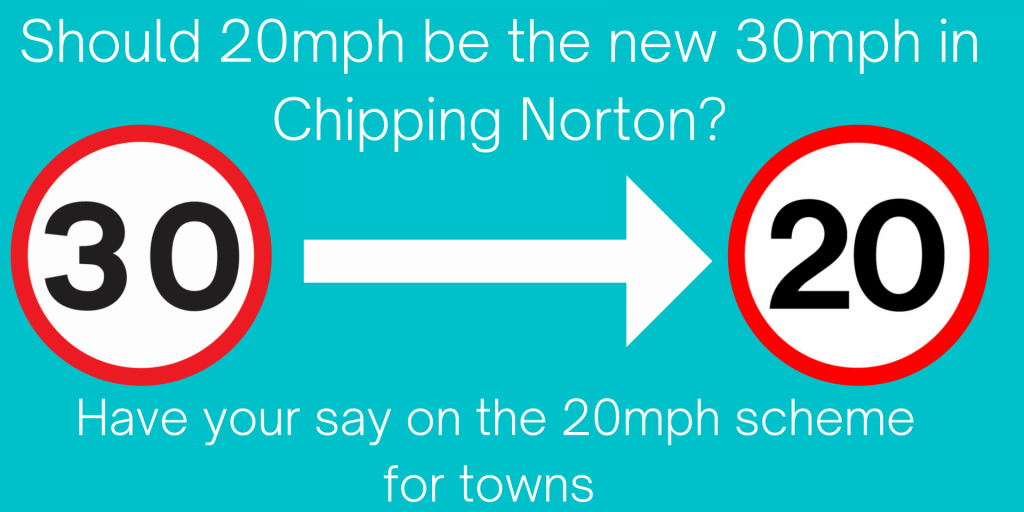 Chipping Norton Town Council have applied to be considered in Oxfordshire County Council's 20mph scheme for Towns. As part of this we would like to hear views from people who live in and travel to Chipping Norton on this.
The general idea is that 30mph zones in residential and pedestrian heavy areas will become 20mph. We would love to hear what your thoughts are on this, and if you think there should be any roads included or excluded from the initiative if it were to go ahead.
Cllr Mark Walker, Chair of the Council's Strategic Planning and Traffic Advisory Sub-Committee says:
"Chipping Norton Town Council signaled its intent to improve our streets by implementing a 20mph zone through the middle of town in 2019 – we are now delighted that that we have an opportunity to extend this to a much wider area of town with the aim of making our streets feel safer and more welcoming places for pedestrians and cyclists. We know from other areas around the country, and internationally that there is a wide acceptance of the benefits of 20mph in terms of reducing pollution, reducing harm caused by collisions with cars and making streets feel more pleasant. We welcome the consultation and would encourage all residents to take part"
The Mayor of Chipping Norton, Cllr Sandra Coleman adds:
"This 20mph initiative gives us the opportunity to extend the current 20mph zone to cover our local schools, areas with many pedestrians, including parents with younger children, and young people making their first independent journeys. Please use this consultation to give us your views, so we get the best scheme possible."
Paper copies of this survey are available on request from The Guildhall – please do pop in or contact us and we can post one out to you.
This consultation closed on the 14th September. The Council will publish the results of the survey once they have been analysed.