& Big Chippy Sing-a-long
Would you like to be a stall holder and bring your Christmas delights to the event?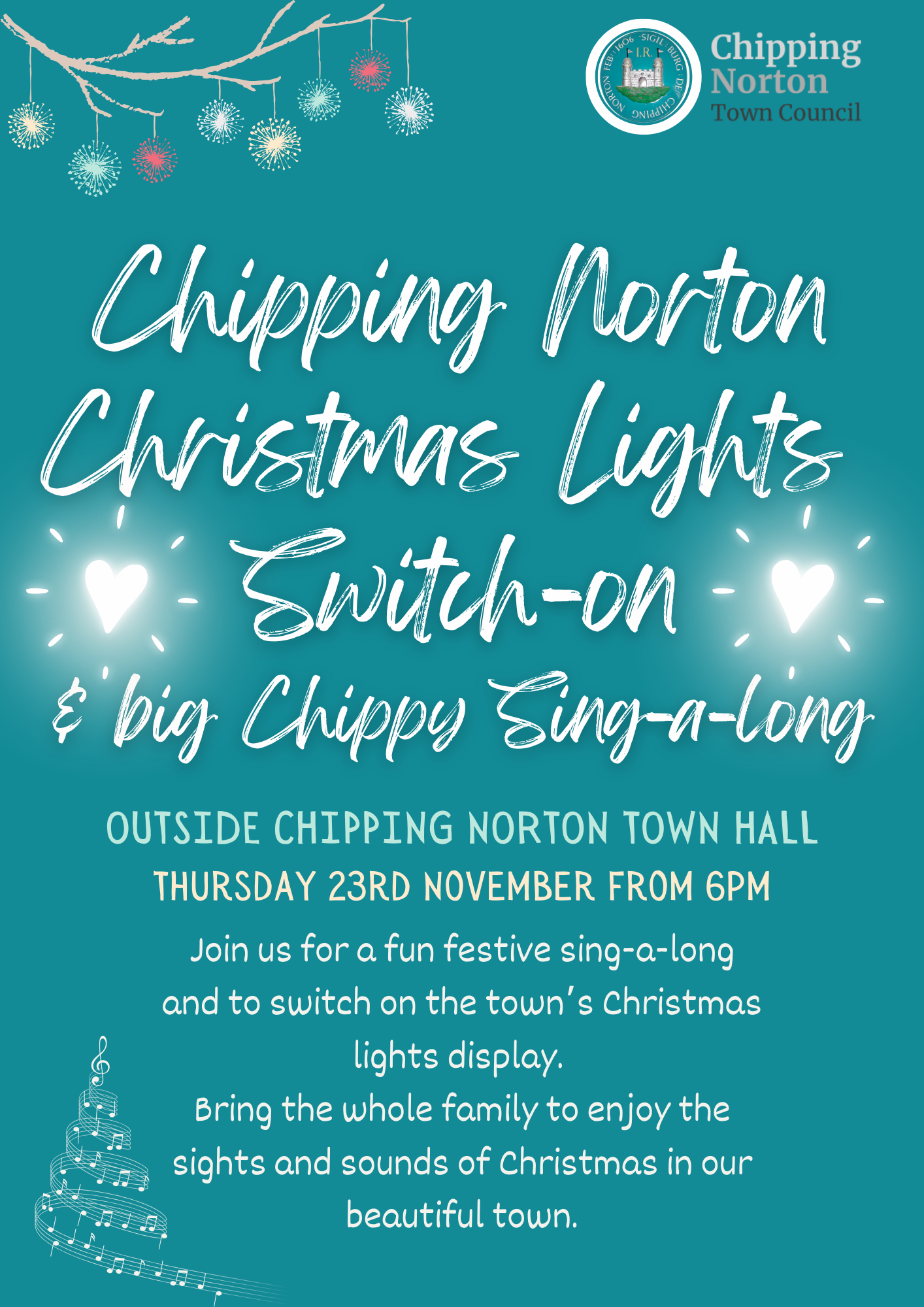 Join the Festivities at the Chipping Norton Christmas Light Switch-On!
Mark your calendars for November 23rd, as Chipping Norton gears up for a magical evening at the Christmas Light Switch-On event, featuring the much-anticipated Big Chippy Christmas Sing-along and Chippy's Young Christmas Cracker Joker! From 4 pm to 8 pm, the town will come alive with holiday spirit and community cheer.
What to Expect:
Christmas Stalls and Goodies: The Upper Hall will be adorned with stalls offering delightful Christmas gifts and goodies. Get into the festive mood with live and recorded Christmas songs.
Delicious Outdoor Eats: The Market Square Topside will host outdoor catering stalls, ensuring you stay warm and well-fed while you enjoy the festivities.
Support Local Charities: Withers Court will be bustling with stalls from local charities, giving you the chance to support great causes.
Santa's Grotto: Lower Hall transforms into Santa's realm, with St Mary's and Holy Trinity Primary schools running a Hot Chocolate and Sweets Station. Children can also meet Santa himself for photos and special presents.
Scout's Treats: Chipping Norton Scouts will be selling mince pies and Hot Chocolate packs, perfect for taking a piece of the event home with you.
The Big Sing-along:
From 6:00 to 6:30, join the Big Community Sing-along led by the Chipping Norton Choral Society, Can Sing, and Chippy Singers. The Mayor will kick things off from the Town Hall Steps, and we'll have the funniest Christmas Cracker joke at 6:15.
A lantern parade will brighten the evening, coinciding with the grand Christmas lights switch-on. Don't forget to sing along; all songs are easy and fun, perfect for spreading holiday joy.
With the support of the Air Cadets and the Royal British Legion, this festive event promises to be a heartwarming celebration of community and the holiday season. Don't miss it!