Welcome to our October edition of Chipping Norton Town Council's Newsletter.
Chipping Norton Mourns the loss of HM Queen Elizabeth II and
Proclaims King Charles III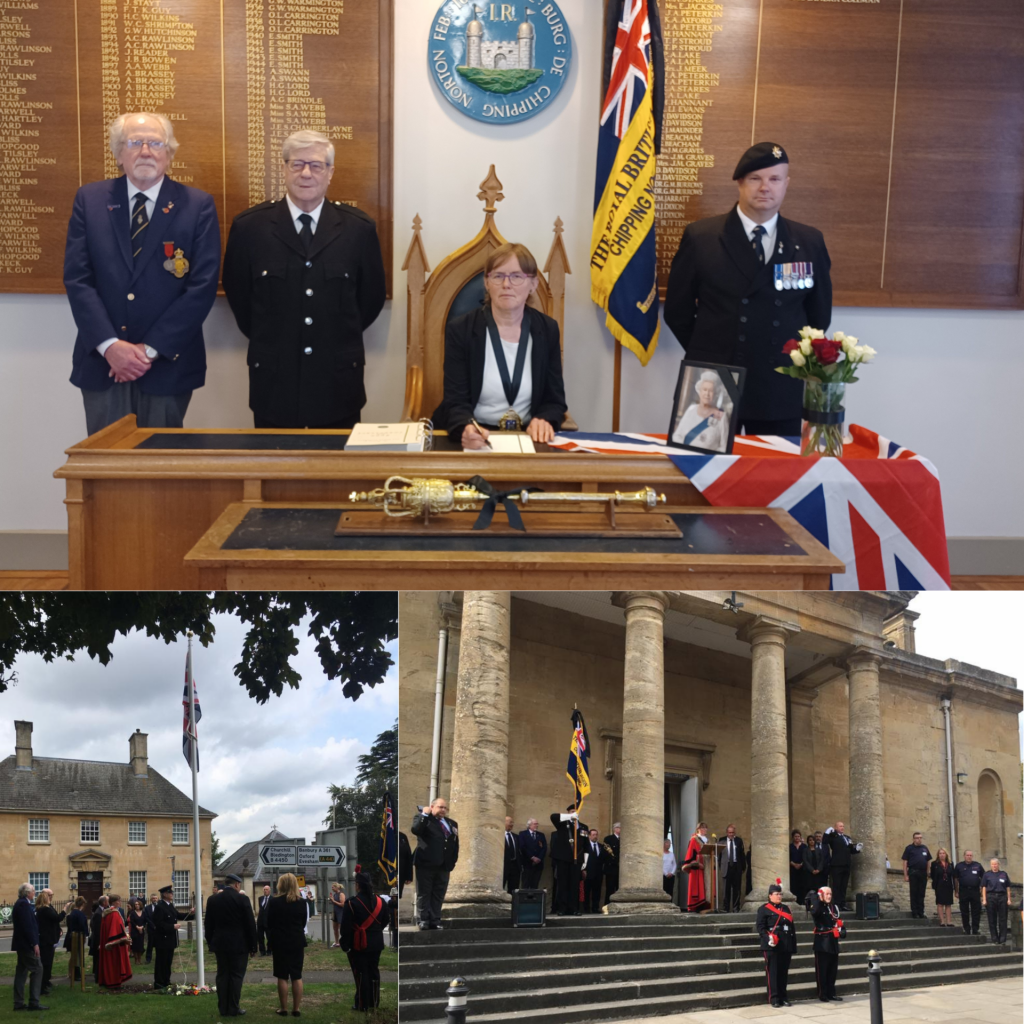 While the flag in the Millennium Garden flew at half-mast throughout the period of mourning for HM Queen Elizabeth II, a book of condolence was opened in the Council Chamber. The Royal British Legion provided a Guard of Honour for the book, for which we are very grateful. Some 500 signatures were added, representing just under 10% of the population of the town.
Town Mayor Cllr Sandra Coleman lead a Proclamation Ceremony for the new monarch on Sunday 11th September at 2pm. The proclamation in Chipping Norton followed on from one that was first read from the balcony at St James Palace above Friary Court by the Garter King of Arms, and then subsequently at other London locations, in other British cities and finally in the towns and villages.
20mph Scheme for Towns – Survey Results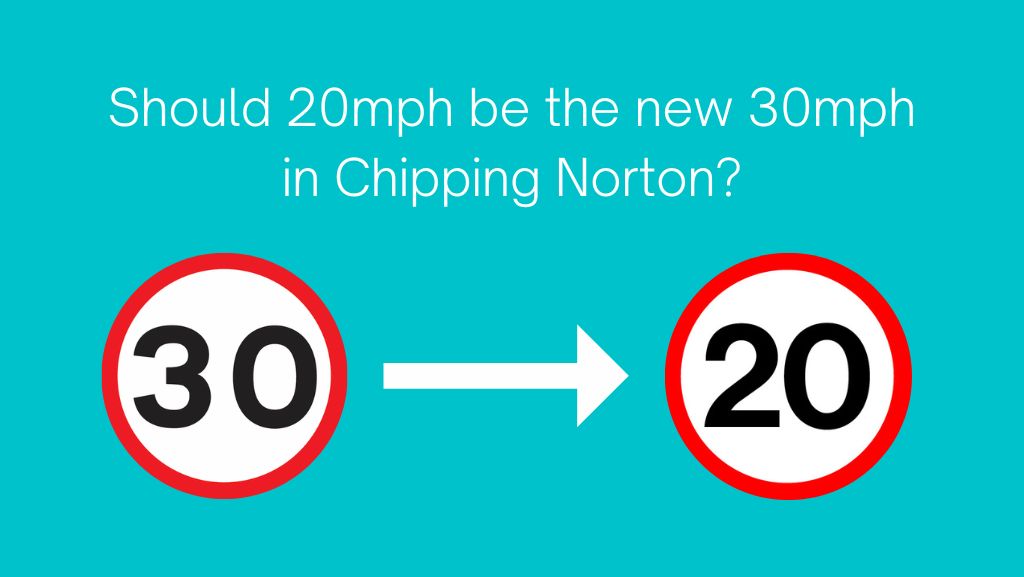 Chipping Norton Town Council recently launched a consultation asking residents their views on the 20mph Scheme for Towns that has been introduced by Oxfordshire County Council.
The survey was undertaken between the 22nd July 2022-14th September 2022 and received a total of 256 responses.
The majority of respondents were Chipping Norton residents (79%), with other responses collected from those who visited (10%), attended school in (5%), or worked in locally in Chipping Norton (4%). A small number of respondents were local or county Councillors (2%)
The results indicate that a majority of respondents are supportive of the 20mph scheme in Chipping Norton, with 64% fully supportive and 9% somewhat supportive of the scheme. 21% of respondents were not supportive of the scheme or had concerns about implementation (6%)
The full report below summarises the results received from the 20mph scheme community consultation undertaken by Chipping Norton Town Council:
Wildflower Planting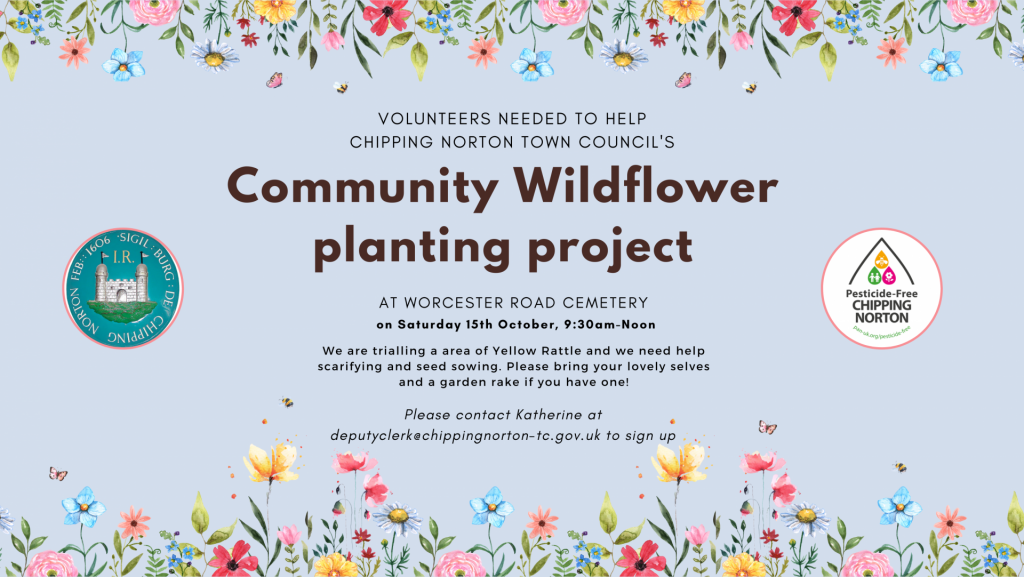 As part of the Council's commitment to climate action, it was agreed to leave a wild area in Worcester Road Cemetery. This area is currently made up mainly of grasses and does not contain many bee- and butterfly-friendly wildflowers. Therefore, the Community Committee resolved to sow yellow rattle seeds at the cemetery clean-up day on Saturday October 15th.
Yellow rattle is a great plant to start a wildflower meadow. It suppresses grasses to allow wildflowers to bloom. You can read more information about yellow rattle here:
We need volunteers to help us sow the yellow rattle and clean up the cemetery. If you would like to join us please contact Katherine on deputyclerk@chippingnorton-tc.gov.uk for more details.
Cost of living crisis
Members of the Town Council met on 9th September to discuss what we as a town can do to provide support in the face of rising food and energy bills, and a number of initiatives are under way, including coordinating regular access to 'Warm Spaces' across town in communal facilities like the Town Hall .
As part of this a community event was held in Chipping Norton Town Hall on Friday 30th September to provide advice on coping with the cost-of-living crisis. The event was attended by representatives from Cottsway, The Chippy Larder, Citizens Advice and Oxfordshire Age UK.
The event was well attended which demonstrates how valuable it was to hold. We will be reviewing organising similar events in the future
Pool Meadow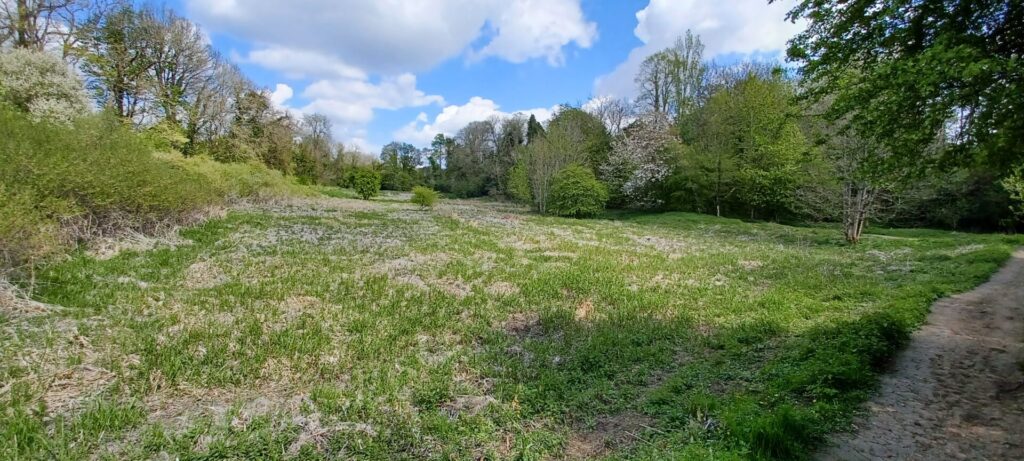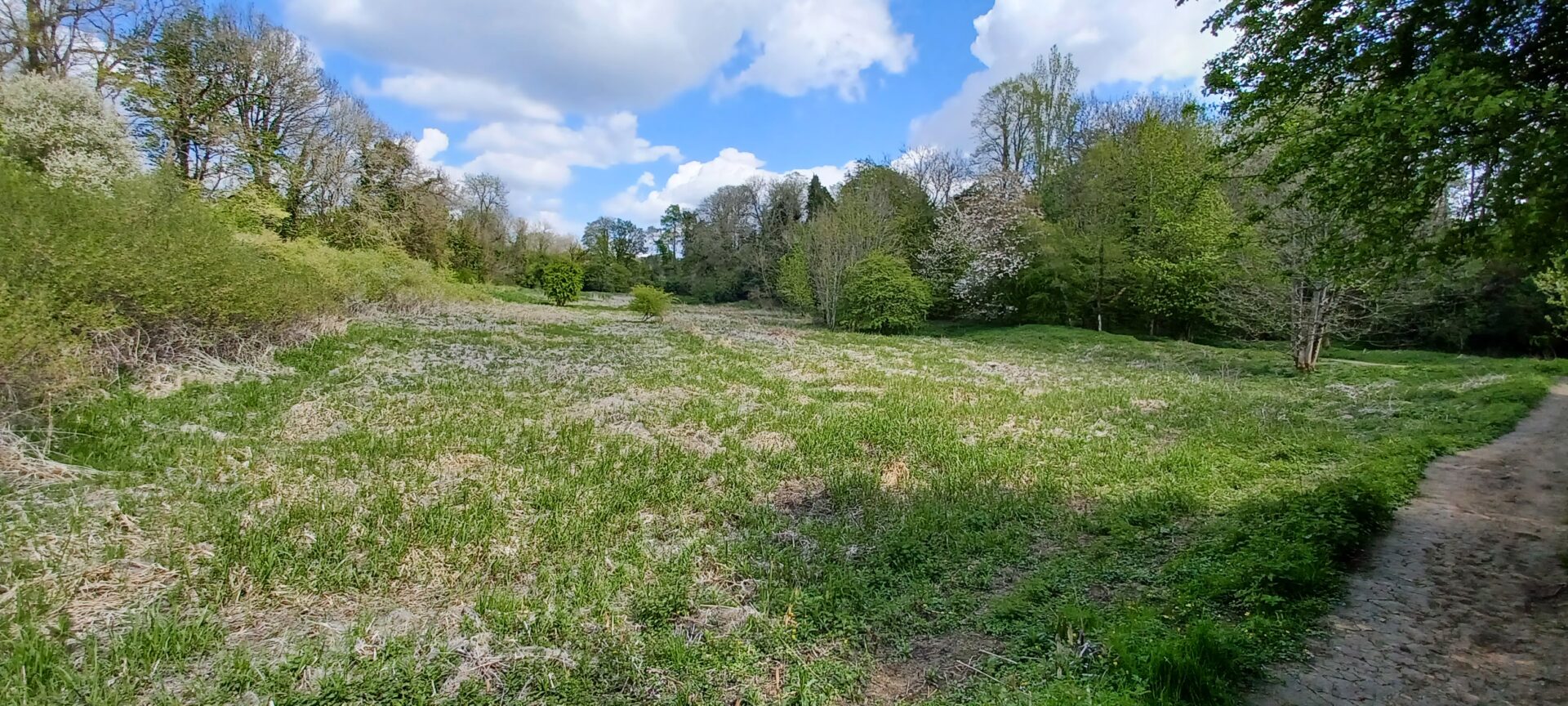 Pool Meadow is a unique and ancient area of natural beauty and tranquility that runs alongside the stream along Worcester Road, close to the site of an associated Ancient Monument where a Norman Castle once stood. The pool, which was drained many years ago, was an artificial pond created to supply the castle with fresh fish.
In June 2022 the Council agreed to have a feasibility study undertaken by Beaumont Rivers Ltd. This study will focus on protecting and improving the biodiversity of and access to Pool Meadow; preserve and highlight the heritage of the area; as well as improve the flood risk to downstream communities. The interim report from this study can be viewed here
You can read more about Pool Meadow here:
Town Council Surgeries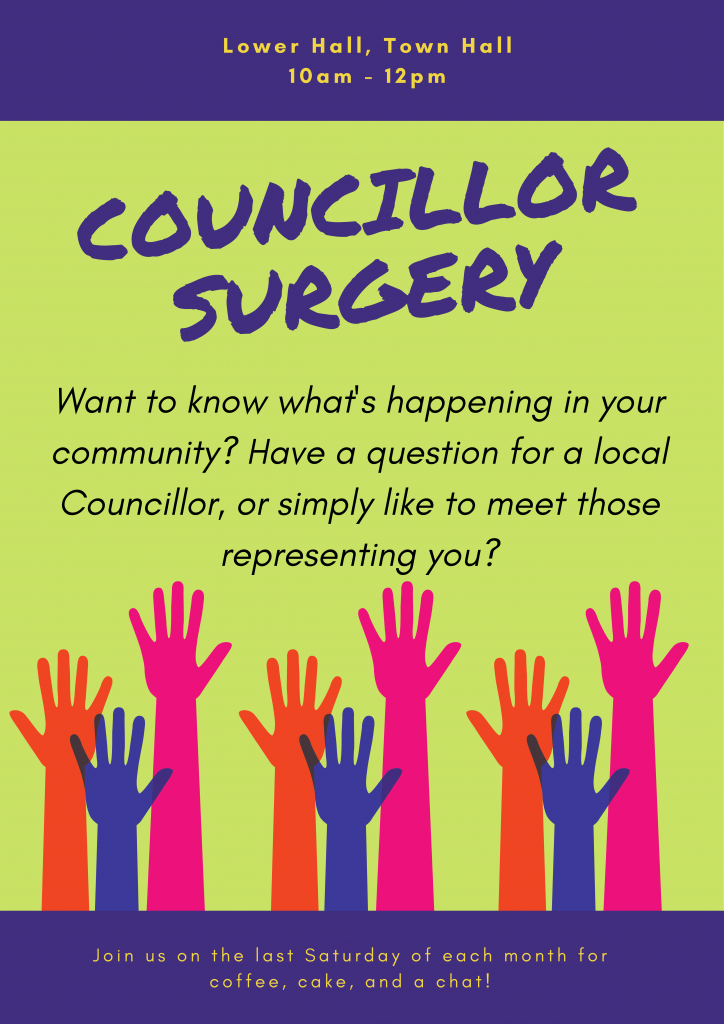 Remember that Councillor surgeries run from 10am -12pm on the last Saturday of every month (except August and December), and they're an opportunity for anyone to drop in and say hello, find out who we are, or share any problems, concerns or suggestions they may have. There is also coffee and cake! Do pop in to our next one (October 29th). Our Town Councillors will be delighted to meet you for a chat.
An introduction to Cllr Mark Walker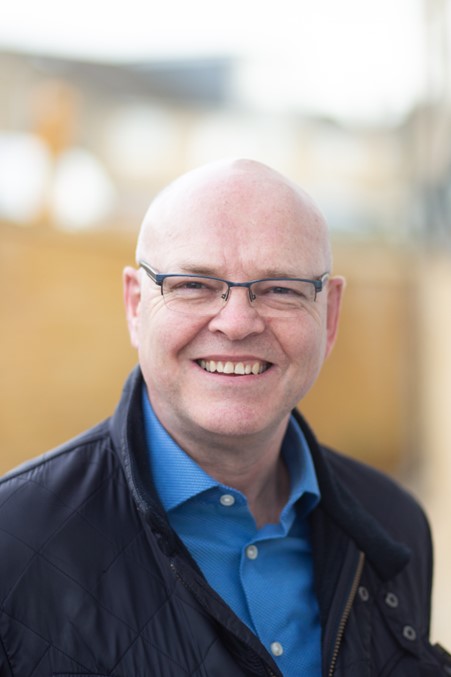 Mark moved to Chipping Norton almost 20 years ago and has been actively involved in local politics for much of that time, gaining a good understanding of some of the challenges we face as a town, and also appreciating the warmth of the people who live here and the wonderful countryside that surrounds us.
Mark's been a Town Councillor since 2014. He was initially involved in the recreation and sports committee, and more recently was elected chair of Strategic Planning and the Traffic Advisory Committee. He's also a keen cyclist and can be spotted out and about across the Cotswolds at the weekend, cycling between coffee shops.
We asked Mark about the key issues he thinks we are facing from a strategic point of view and what we as a town can do to improve things for all of us.
"Two key issues I think, one is the Tank Farm development which is next to where I live so I can see the impact it will have. We need to ensure we build the right kind of homes for the people of Chipping Norton – we're desperately short of homes for young people starting out so that's got to be a priority, as well as making sure the houses are built to the highest environmental standards. It's also really important that it becomes an integrated part of Chipping Norton, with easy routes into town for pedestrians and cyclists, so I'd encourage people to get involved with the Build Chippy Better group who are working with the landowners and other interested parties on a masterplan which will set the tone for the whole development."
"Secondly the issues around traffic, and not just HGVs. I'm encouraged by the new administration at Oxfordshire County Council (OCC) and their willingness to look at towns from a pedestrian and cyclists' point of view and not just the driver's. The initial 20mph zone was a stepping stone to improving things, and we have identified a number of areas where we would like to see better crossing points to make it safer to walk in and around town, encouraging people to leave cars at home. We've also applied to be a 20mph town, and I'm grateful for those who responded to the survey. We have seen across the country, and around the world, that by implementing 20mph we can make our towns safer, healthier, and nicer places to live. We haven't forgotten about HGVs – we're also working with OCC (and in turn Gloucestershire County Council) to reduce the number of HGVs that pass through Chipping Norton by implementing restrictions at Oxford and Stow on the Wold."
"I'm always happy to talk to people about how we can make Chippy a better place – so don't be shy and say hello!"
Get involved
Please join us for our annual Cemetery Clean-up Day on Saturday 15th October 9am-12pm. This is a great opportunity to make our cemetery spick and span, help create a new wildflower area, and to get out in the fresh autumn air at the same time!
Do you have skills or experience that might be useful in our discussions about the ECN development? Or just feel that you would like to contribute? To join the Build Chippy Better group, please contact Katherine on: deputyclerk@chippingnorton-tc.gov.uk
As part of our work in securing an LCWIP for Chippy, we're very keen to hear from people with disabilities or mobility difficulties about the areas of the town that are particularly difficult for them to navigate. Again, please contact Katherine on: deputyclerk@chippingnorton-tc.gov.uk with your views.
Sign up to receive our monthly newsletter by email