Welcome to the May edition of the Town Council's newsletter.
New Town Council
Due to there being an uncontested election, the Town Council election results have been announced and there will not be a poll. An uncontested election occurs when fewer nominations are received that the number of seats available. In this case there were 14 nominations and Chipping Norton Town Council has 16 seats. The Council will be publishing notices of vacancies in the near future. We will publish all details online and our noticeboards once we have them.
The first meeting of the new Council will take place on Monday 15th May at 6:30pm in the Upper Hall of Chipping Norton Town Hall. The first item on the agenda will be for Council to elect the Mayor. All welcome.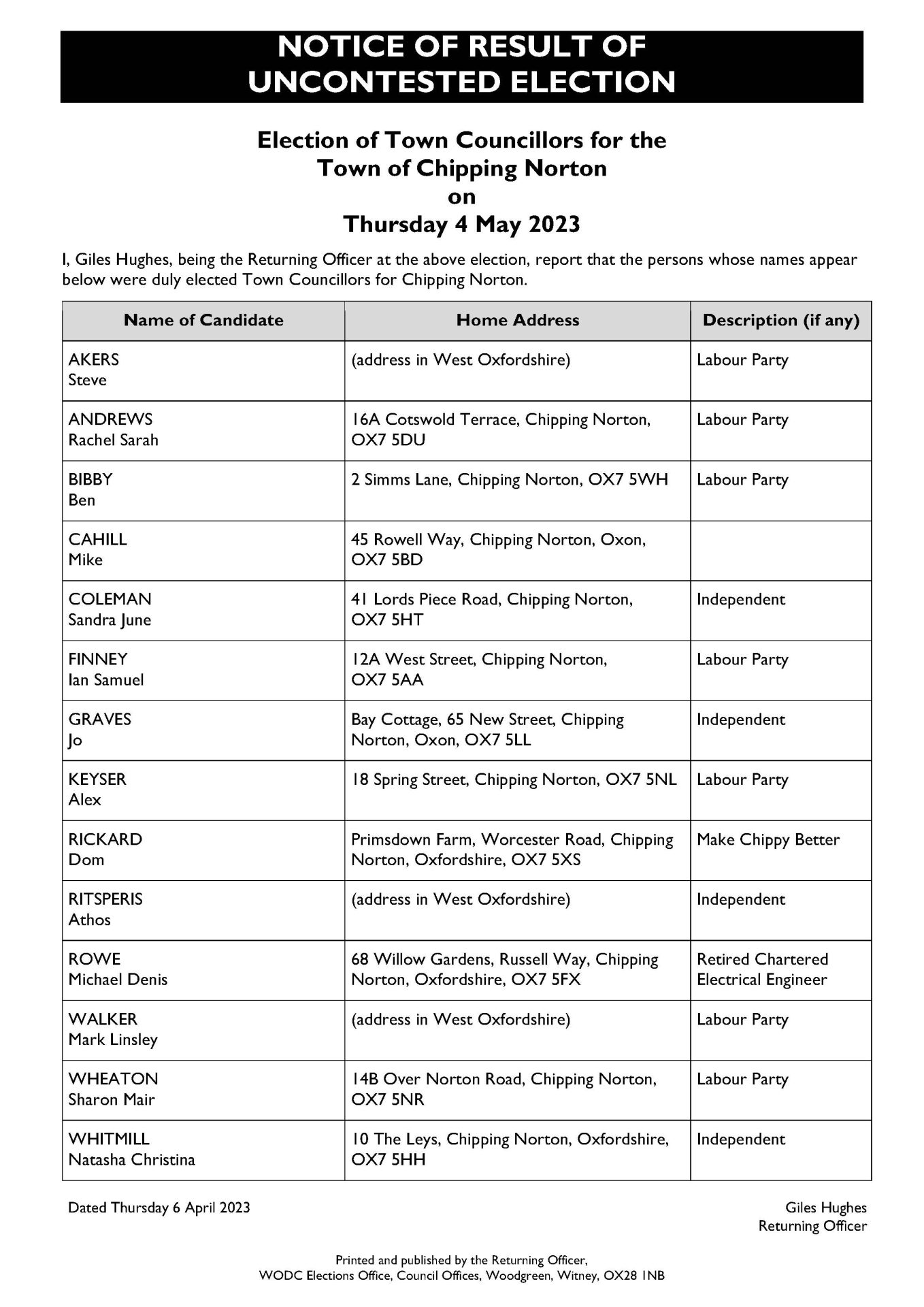 West Oxfordshire District Council Elections.
There will be an election on Thursday 4th May for the West Oxfordshire District Council seat for the ward of Chipping Norton. Polls will be open 7am-10pm. Please remember you will need to bring eligible photo ID.
The Coronation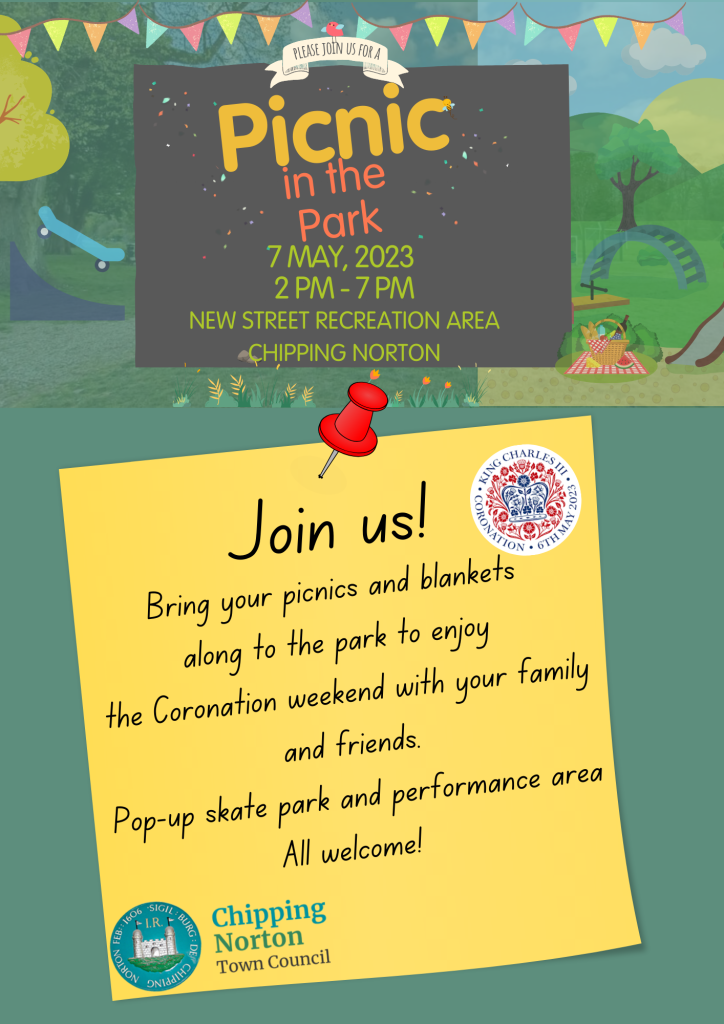 The Coronation of King Charles III will take place on Saturday 6th May 2023. The Palace have requested that people watch the Coronation live on television or by visiting London in person. Communities are therefore invited to celebrate locally by holding street parties and a big lunch on Sunday 7th May.
Chipping Norton Town Council will be hosting a 'Picnic in the Park' event at New Street Recreation Area from 2pm-7pm. Please do join us. There will be a performance "busk-stop" and a pop up skatepark for all to enjoy!
MOBILE SKATE PARK MANIA
for the King's Coronation on 7th May at New Street Play Park.
Chipping Norton Town Council has teamed up with RollBack World to organise a day of free Wheeled activities. We're offering you the chance to showcase your skills on the mobile skate park or simply try your hand at something new. All levels of ability are welcome, with free equipment such as skateboards, stunt scooters and BMX bikes available to use on the day.
Join us with your friends and family at the King's Coronation, bring a blanket, some food and drink for the Picnic in the Park, and have a go from 2pm – 7pm on Sunday 7th May.
…and if you've got skills – show your talents off in our 'Your Time to Shine' event on the day, email events@chippingnorton-tc.gov.uk if you are a young person with stunts to show!
Flag-flying at the Millennium Garden
Saturday 6th May: The Coronation of King Charles III – The Coronation Emblem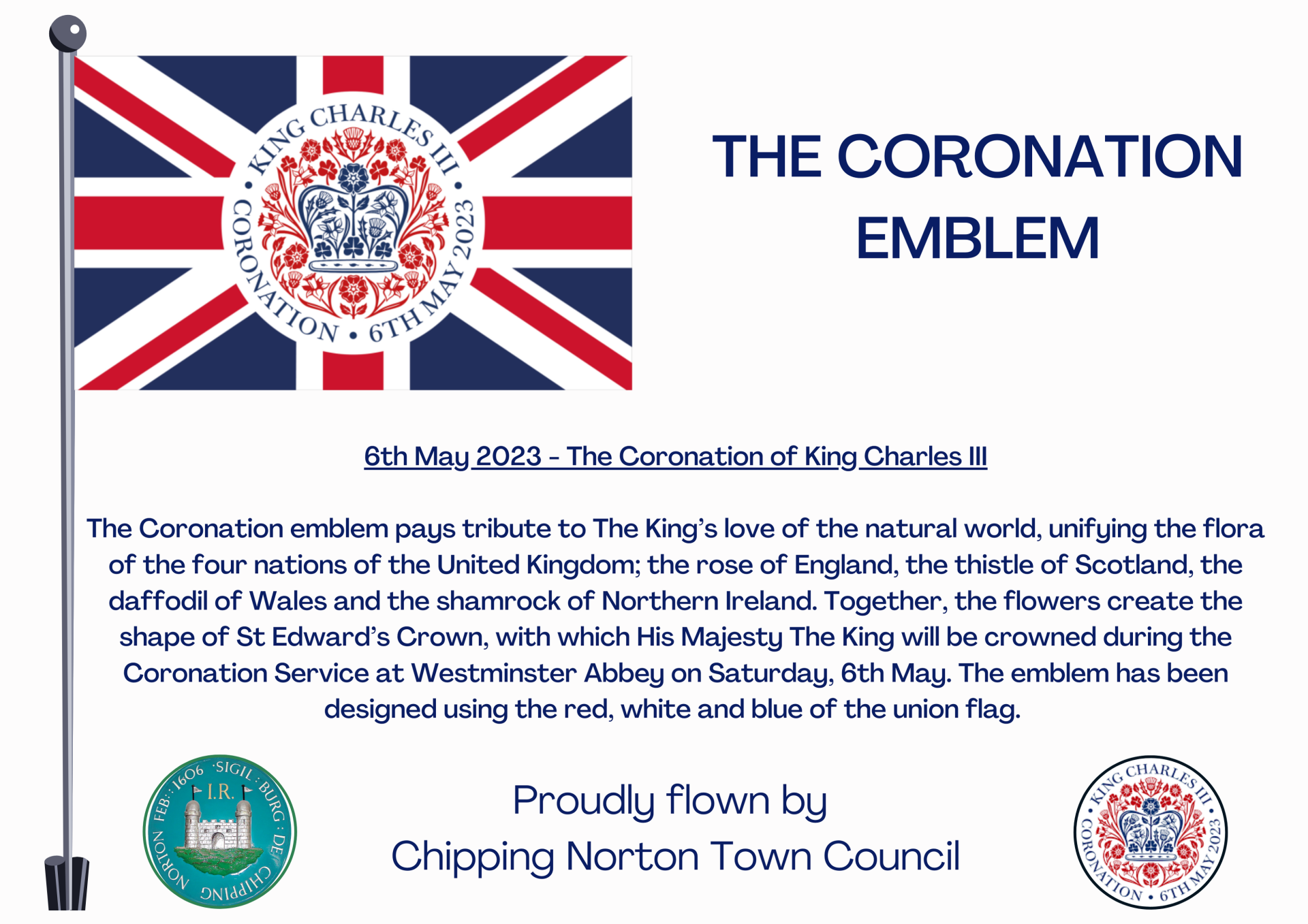 In June we will be flying the following flags:
20th June, World Refugee Day – The Refugee Nation Flag
24th June, Armed Forces Day – The Armed Forces Day Flag
Chippy Pride 2023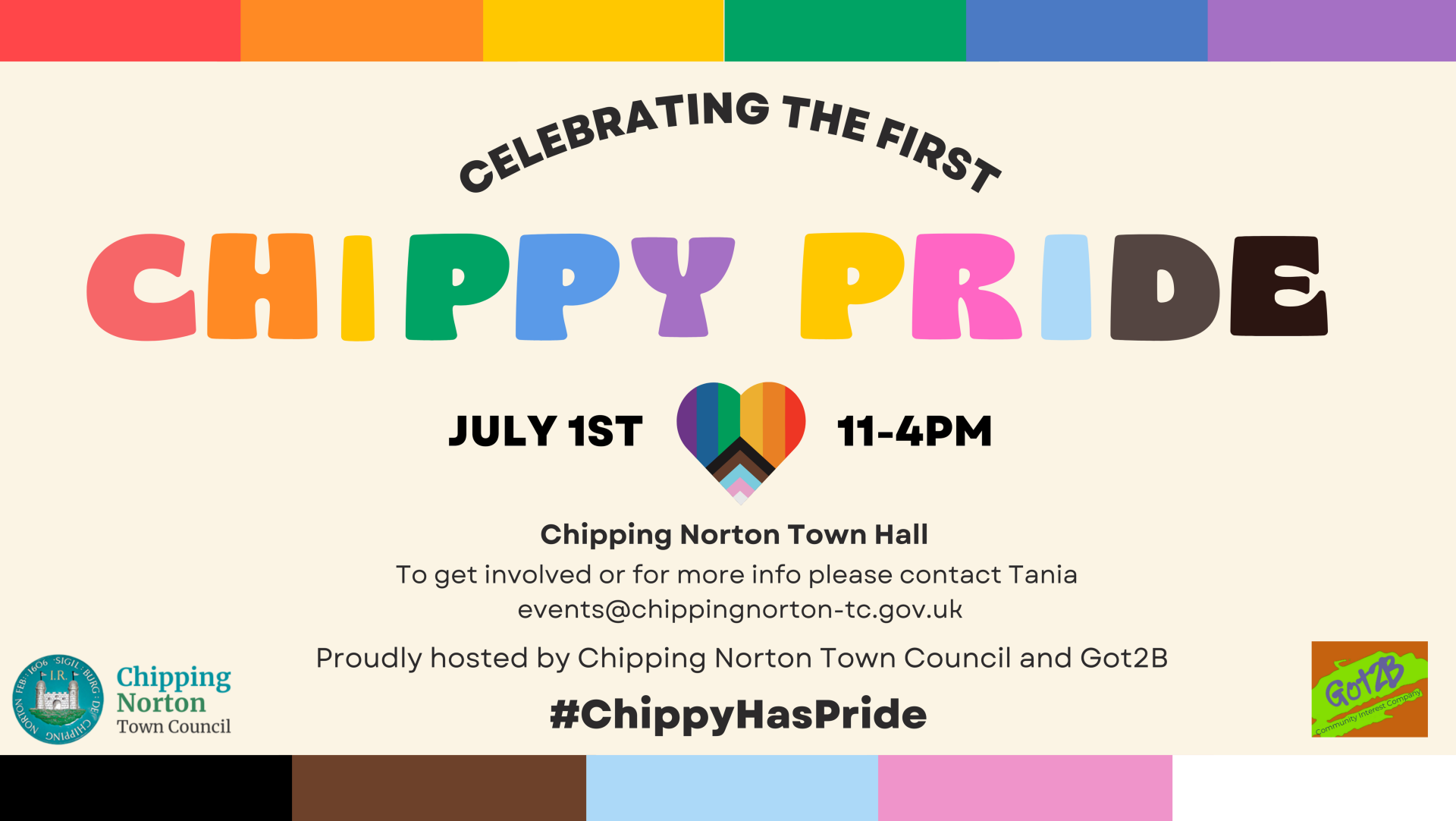 Chipping Norton Town Council, in association with Got2B Youth Group, are proud to be hosting the very first Chippy Pride event on 1st July 2023.
We are inviting the whole community to promote the wonderful inclusive nature of our town and our people and join us in painting the town with the LGBTQ+ Rainbow.
Pride Month in the UK is throughout June 2023, and we will be ending the month with our own Pride Event in Town Hall on 1st July. With information and support as well as entertainment throughout the day, we would love to welcome you to Town Hall for #ChippyHasPride 2023.
If you would like to be involved in this event please do contact us using the link below:
Chipping Norton Sports Awards – 7th July 2023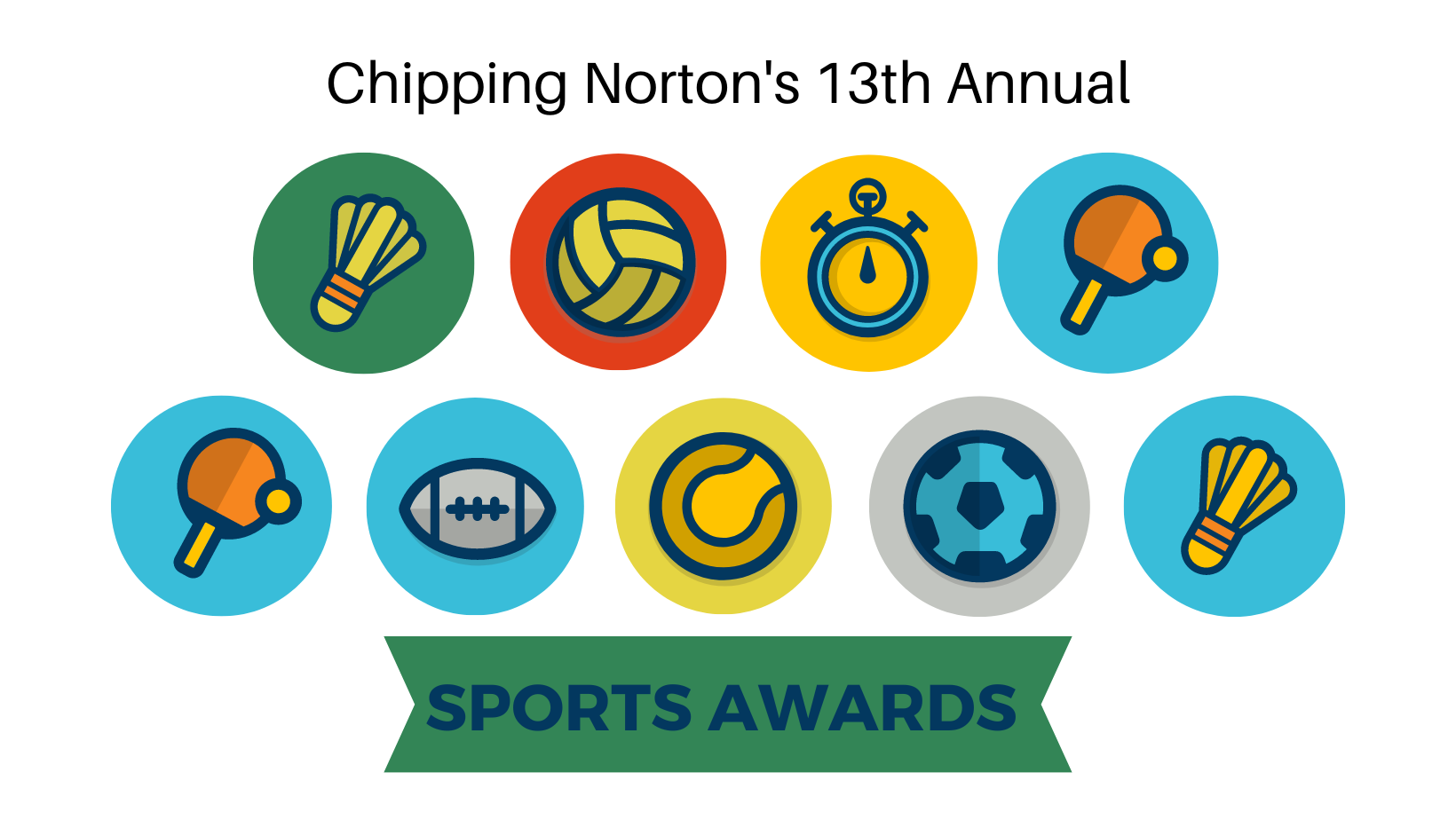 The Annual Chipping Norton Sports Awards will be taking place on 7th July 2023. Nominations will be opening at the end of April – so keep an eye out on Chipping Norton Town Council Website and Social Media for the launch of the nomination date! The Facilities and Events Officer is already getting emails about the awards – we are certain this year is going to be full of great people and heart-warming stories.
For more information, and to nominate your local sporting here please click on the link below:
Keep Chippy Beautiful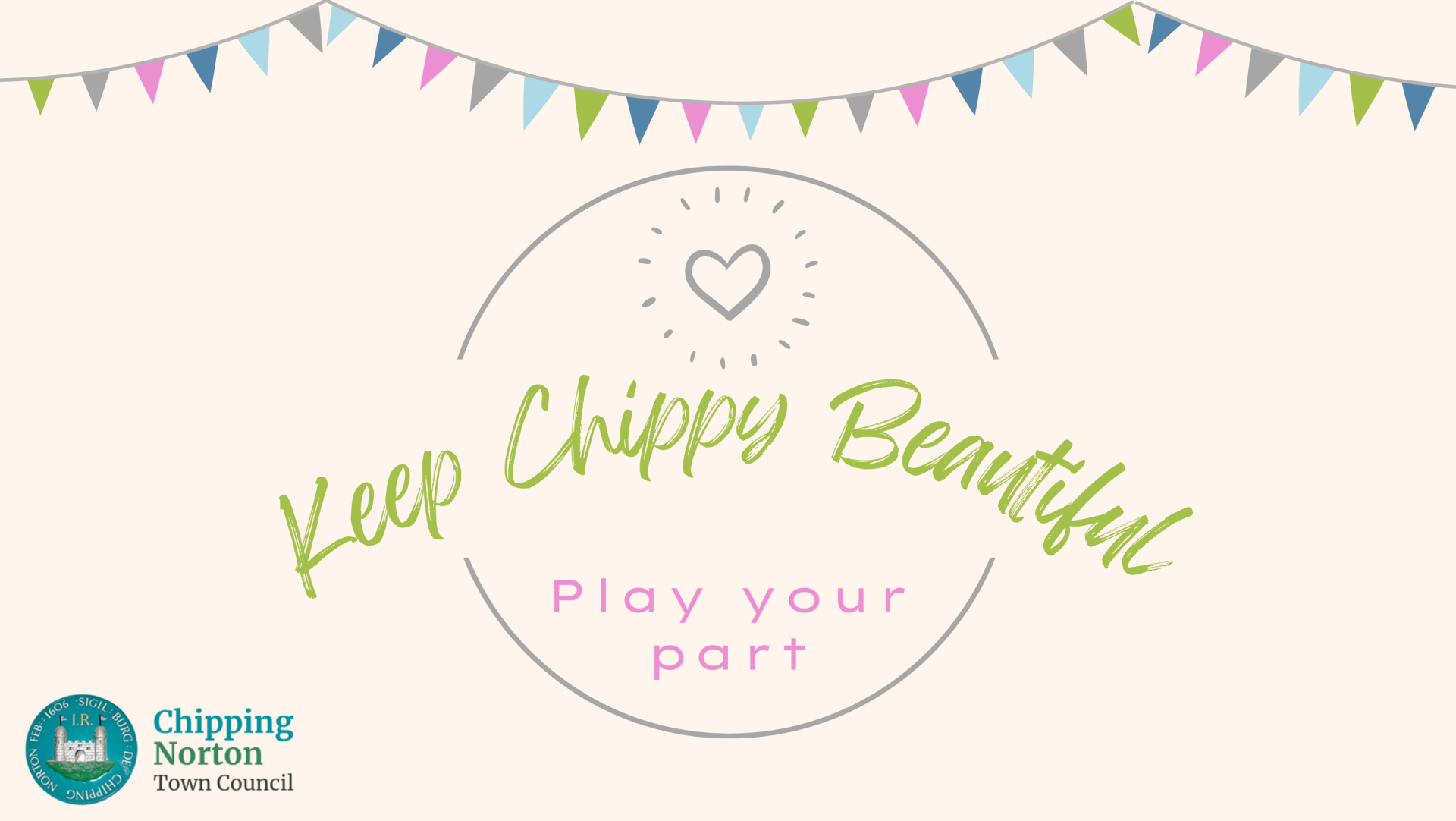 Chipping Norton Town Council have just launched the 'Keep Chippy Beautiful' initiative, and would love to hear from members of the community who would like to get involved.
We're planning on hosting a meeting for people to share ideas about how the community can be empowered to take pride in our town and work together to shape a shared vision of community action that everyone can participate in.
If you would like to be involved, please click on the link below:
An introduction to our new Responsible Finance Officer- Alison Packer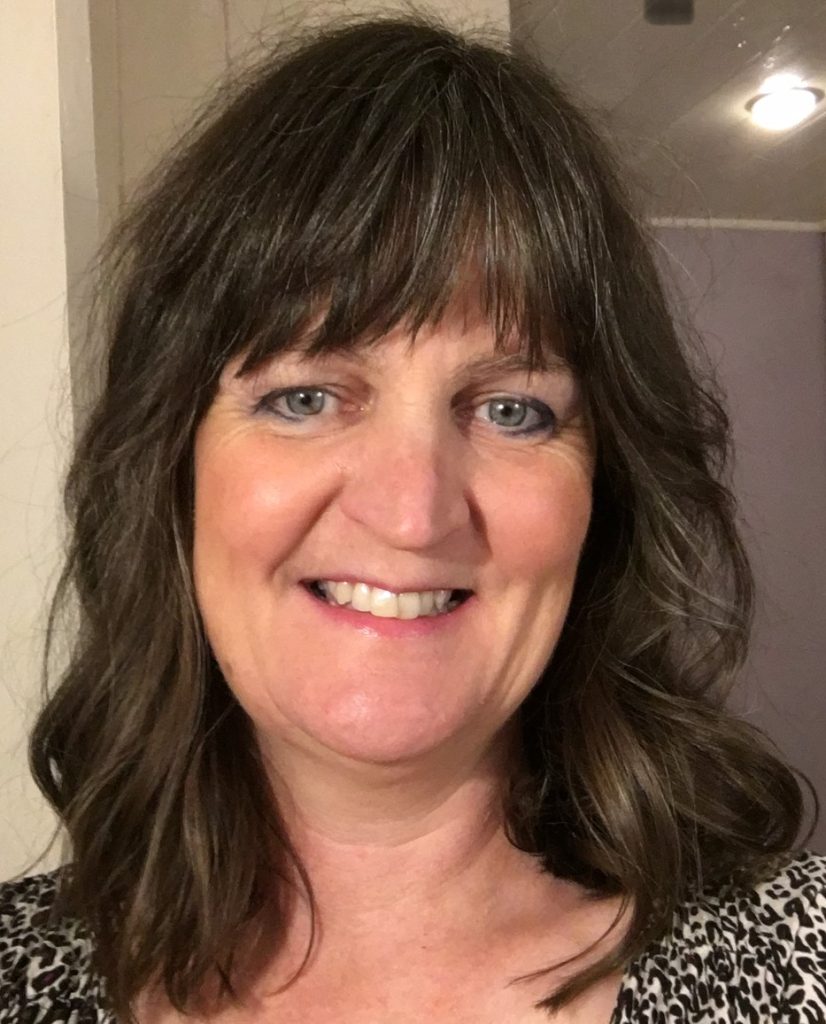 "As the most recent addition to the staff at Chipping Norton Town Council, I have been warmly welcomed into this fabulous team.
After a long career in the emergency services, I am now in my fourth year of working within local government where I can continue to help support our local communities. Whilst not a Chippy resident, I do live locally on the Oxfordshire/Warwickshire border and this area has been my home for nearly 30 years during which time I have enjoyed getting involved with all sorts of community groups and projects. I am looking forward to getting to know the town even better and all that it has to offer."
You can contact staff and Councillors here:
Get involved
Do you have skills or experience that might be useful in our discussions about the ECN development? Or just feel that you would like to contribute? To join the Build Chippy Better group, please contact Katherine on: deputyclerk@chippingnorton-tc.gov.uk
As part of our work in securing a Local Cycling/Walking Infrastructure Plan (LCWIP) for Chipping Norton, we're very keen to hear from people with disabilities or mobility difficulties about the areas of the town that are particularly difficult for them to navigate. Again, please contact Katherine on: deputyclerk@chippingnorton-tc.gov.uk with your views.
Dates for your diary
3rd May: Thames Valley Police Neighbourhood team Domestic Abuse outreach day
1pm-3pm, Chipping Norton Leisure Centre
4th May: District Council Elections
7am-10pm, Chipping Norton Town Hall
6th May: Official Coronation of King Charles III
7th May: Picnic in the Park
2pm-7pm, New Street Rec Area
Enjoy a Picnic in the Park hosted by Chipping Norton Town Council! There will be a pop-up skate park and performance area for all to enjoy.
15th May: Annual Meeting of the Council. The first meeting of the new Council will be held in the Upper Hall of Chipping Norton Town Hall at 6:30pm on Monday 15th May. The first item on the agenda will be for the Council to elect the town Mayor. All welcome.
The Town Council Office will be closed for Bank Holidays on: 1st May, 8th May, 29th May
Sign up to receive our monthly newsletter by email