Welcome to the June edition of the Town Council's newsletter.
New Town Council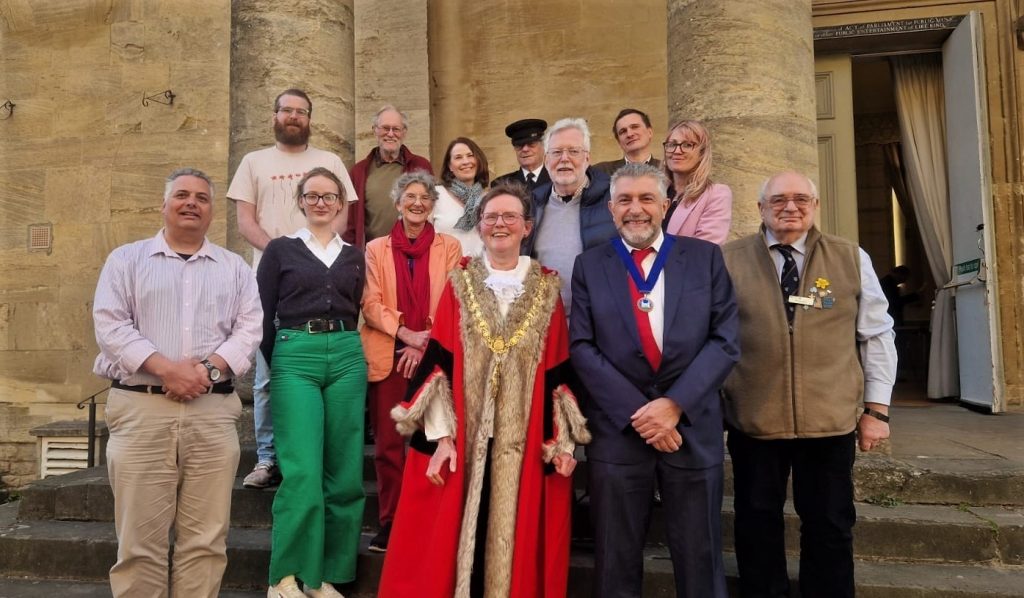 The new Town Council met for the first time at the Annual Meeting of the Council on 15th May 2023. They are looking forward to representing Chipping Norton over the next four years. You can contact your Councillors here:
Vacancies on Chipping Norton Town Council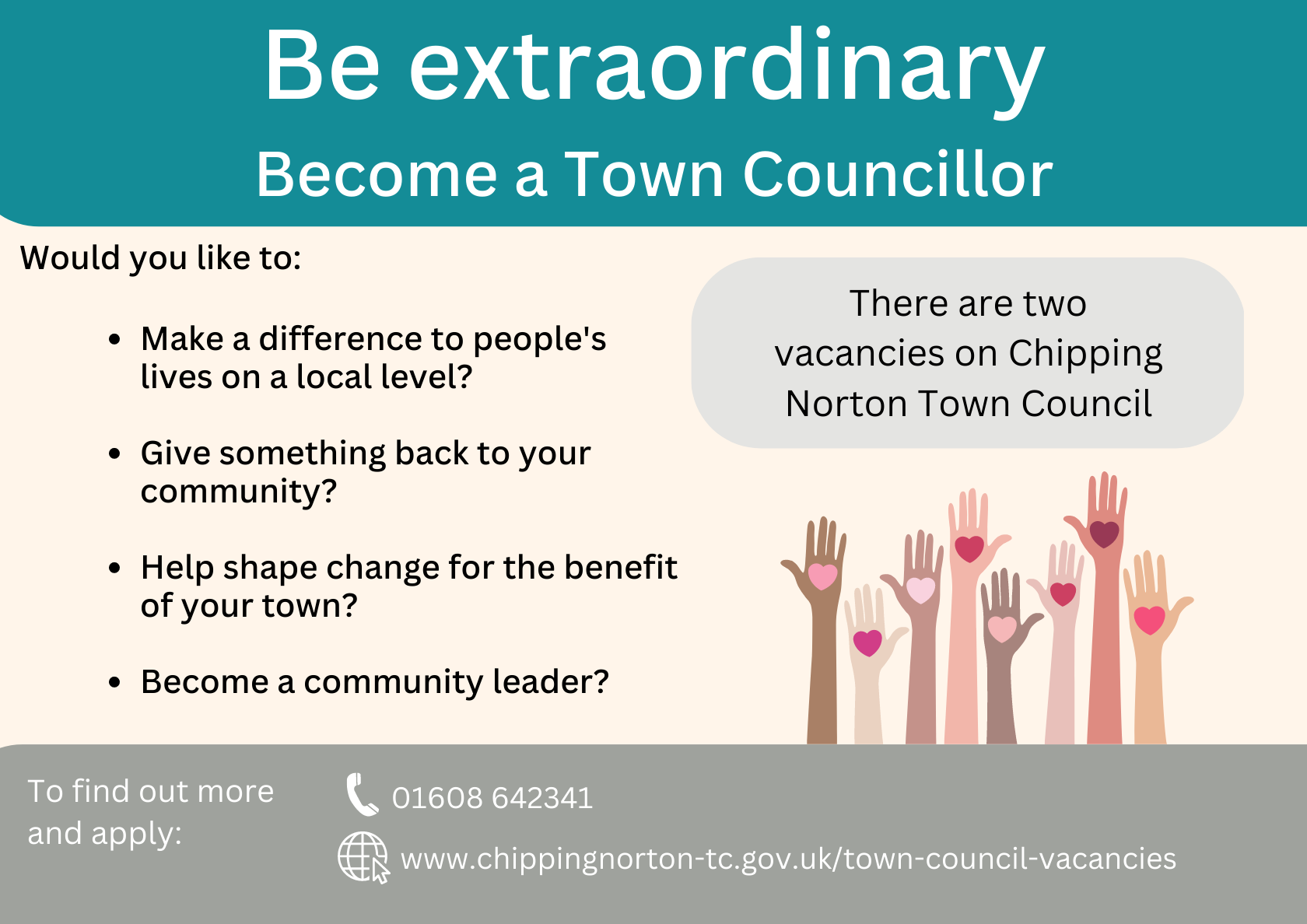 Following the recent uncontested election, there are two vacancies for Councillors for Chipping Norton Town Council. To apply (deadline 5pm on Monday 12th June) or for more information please click on the link below:
West Oxfordshire District Council Elections.
Mark Walker was elected West Oxfordshire District Councillor for the Chipping Norton Ward on Thursday 4th May 2023.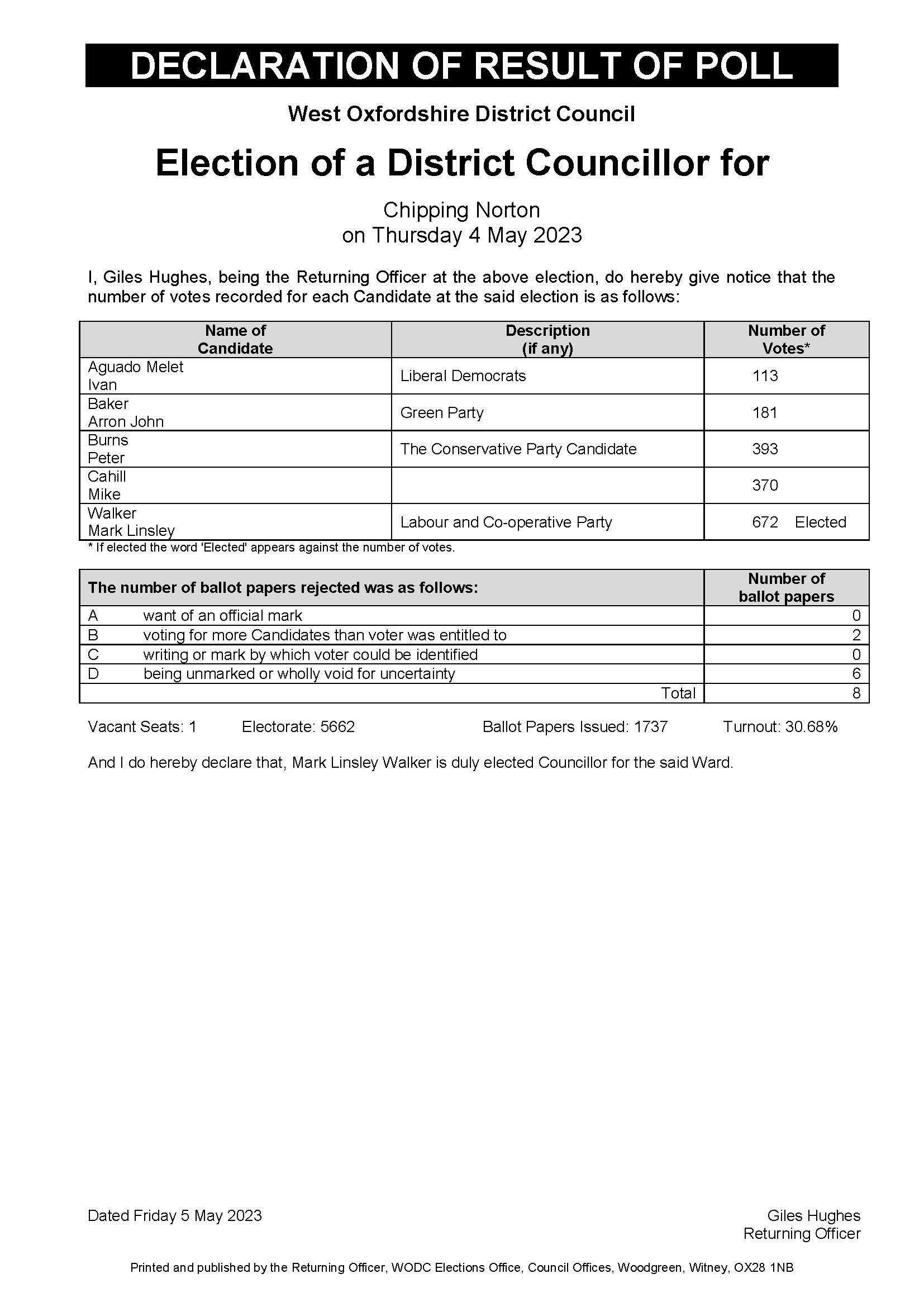 The Picnic in the park for The Coronation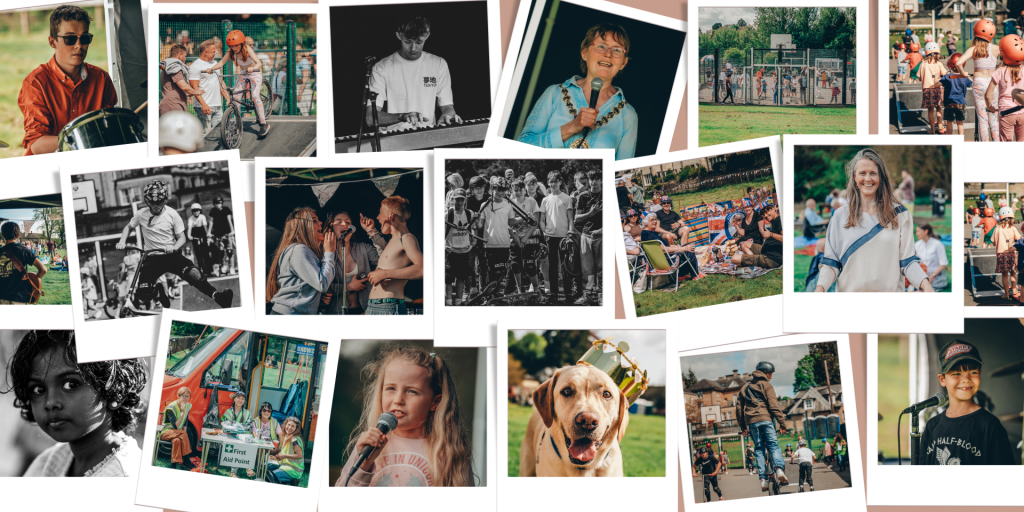 MOBILE SKATE PARK MANIA
with YOUTHFUL ENTERTAINMENT for the King's Coronation on 7th May at New Street Play Park.
Chipping Norton came alive with joy and excitement during the King's Coronation 2023 Picnic in the Park. The event, dedicated to the newly crowned British King, Charles III, captivated over 400 attendees who reveled in a day filled with merriment and unity. From the thrilling temporary skate park provided by Rollback World to the captivating performances showcased at the Performance Gazebo, the air was filled with cheers and applause. Crown Making, Outdoor Education, and Dreamer Streamer Festival Flag making further sparked the attendees' creativity and sense of togetherness. Under the warm sun, families gathered, embracing the spirit of celebration and forging unforgettable memories in this remarkable community event.
Our new Bike Repair Stations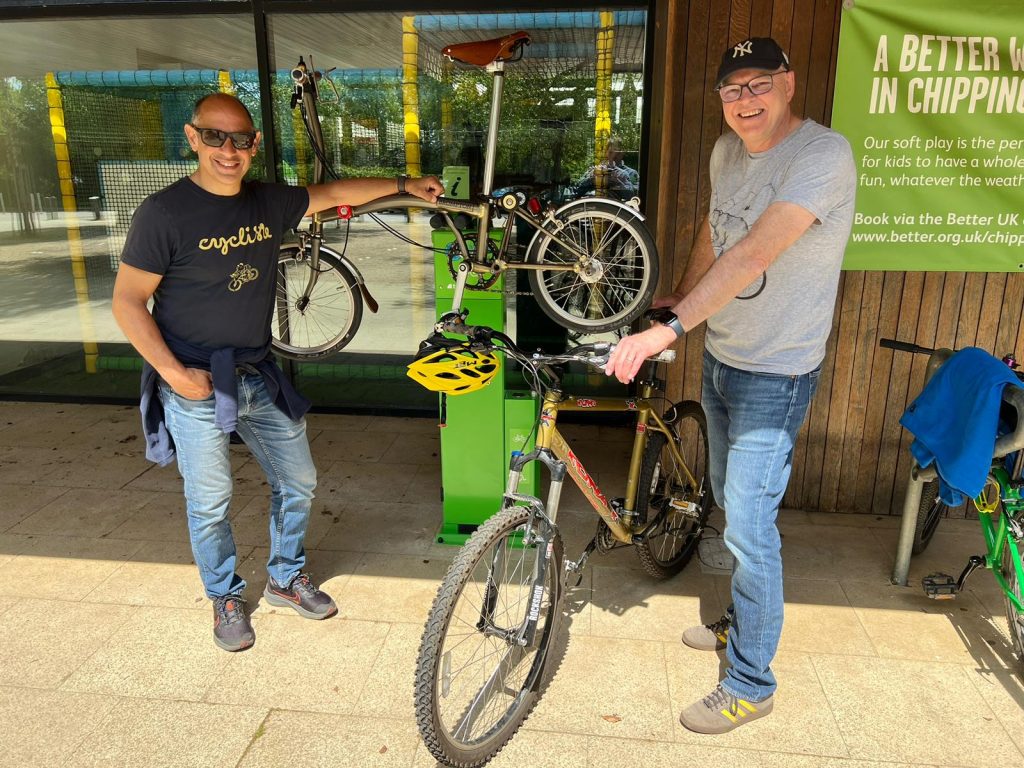 Chipping Norton is making cycling more convenient and accessible by installing two Turvec Bike Repair Stands and Pumps. These additions will provide cyclists with easy access to repair tools and air pumps, making it easier to maintain their bikes. The stands will be located outside Nash's Bakery and near the Leisure Centre, enhancing the cycling experience for residents and visitors.
Cycling promotes sustainability and a healthier lifestyle, making it a popular mode of transportation. Recognising this, Chipping Norton is investing in cycling infrastructure to encourage more people to choose cycling. The Turvec Bike Repair Stands and Pumps offer a comprehensive solution for quick repairs and maintenance while on the go.
Cotswold Crescent Play Area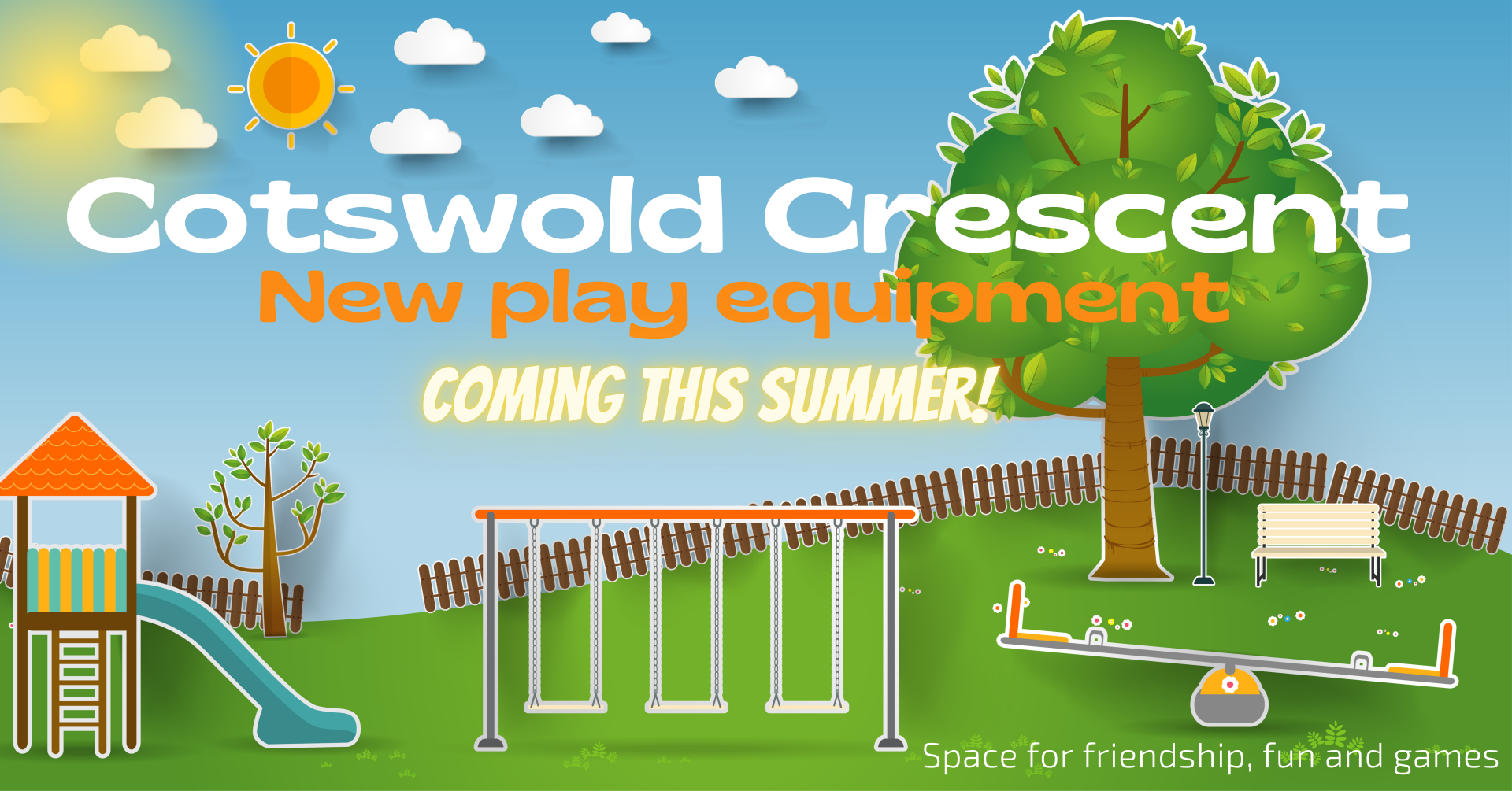 Over the past few months we have been listening to what the young people who use Cotswold Crescent play area would like to see installed there. We are very grateful to the efforts of Learn2Sustain who have been carrying out youth work in the play area, and have been facilitating many conversations in order to help the Council put together a specification which will provide a fun and meaningful space for the people who use it.

The council employed Sport and Play Consulting who put together the detailed specifications within the allocated budget of £60,000. This funding is made up of:
£26,424 from Section 106 funding
£10,000 National Lottery Awards for All
£25,000 (plus £5000 contingency) from the Council's ear-marked reserves
At the meeting of Full Council in April 2023 Councillors considered the designs from four tender submissions. The Council awarded the contract to Mant Leisure Ltd who scored highest against the original specifications. You can see the design below:

Flag-flying at the Millennium Garden
Tuesday 20th June: World Refugee Day – The Refugee Nation Flag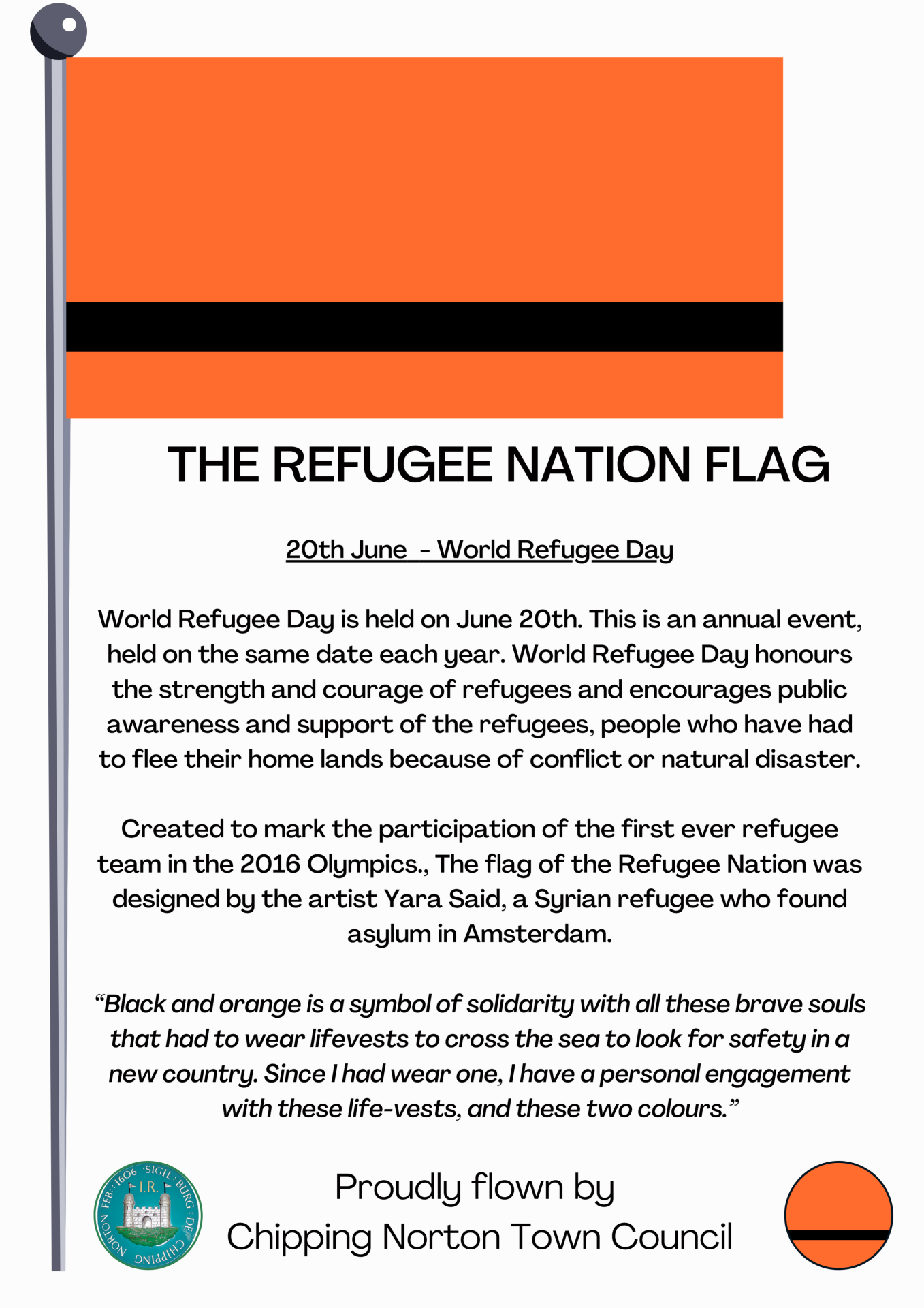 Saturday 24th June: Armed Forces Day – The Armed Forces Day Flag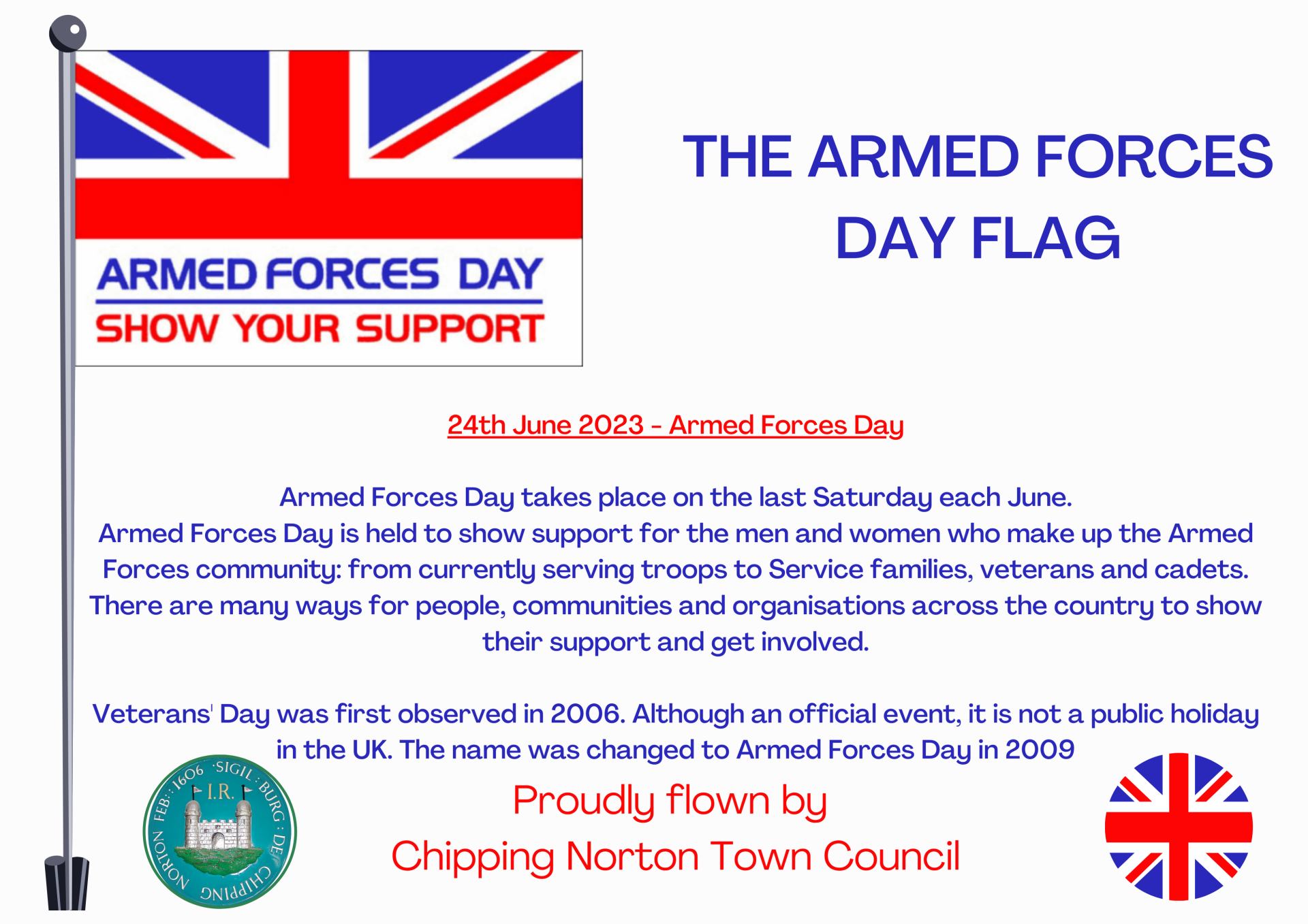 In July we will be flying the following flags:
Saturday 1st July, Chippy Pride 2023 – The Pride Flag
Wednesday 5th July, The NHS's 75th Birthday – The NHS Flag
Chippy Pride 2023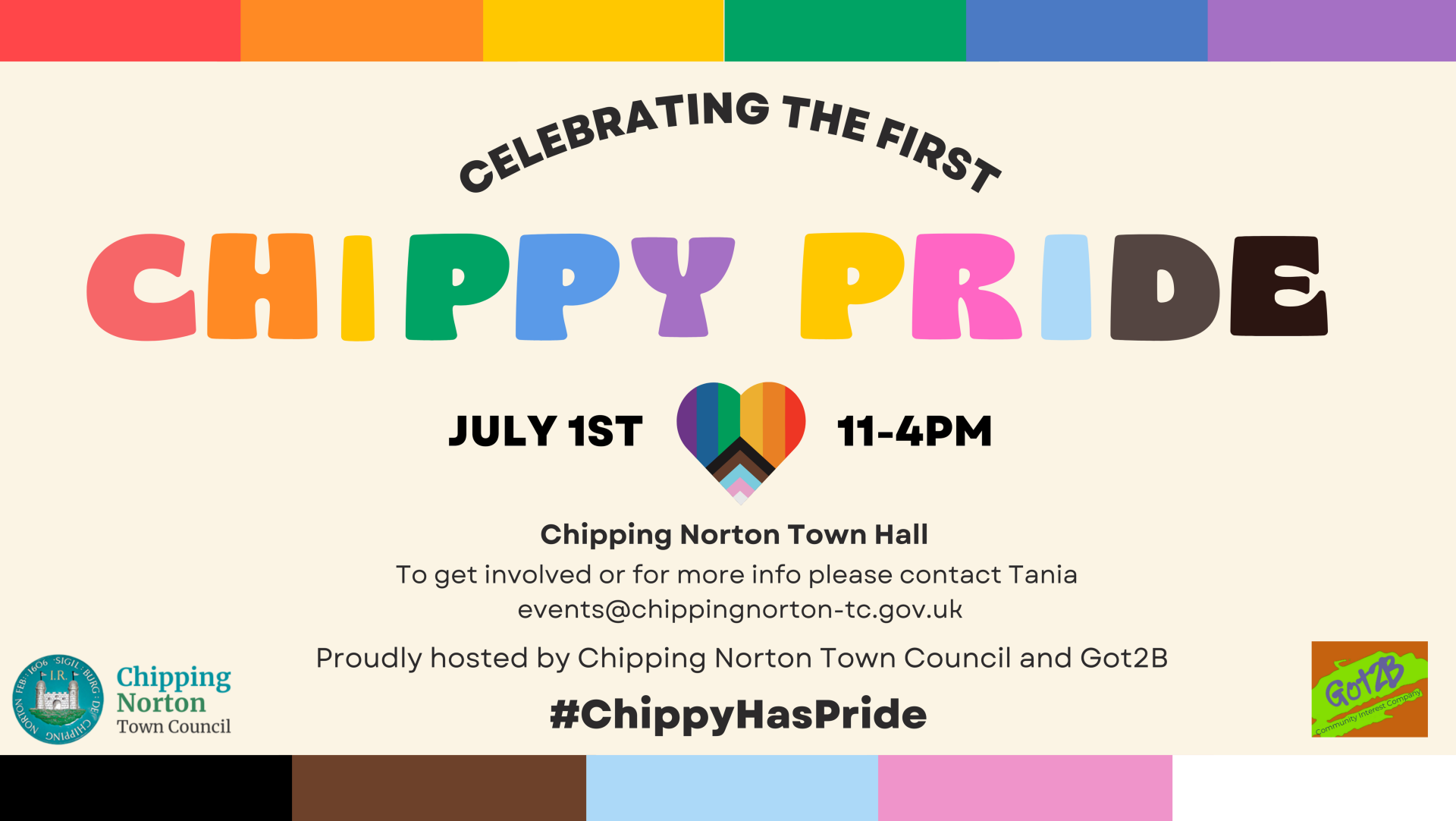 Chipping Norton Town Council, in association with Got2B Youth Group, are proud to be hosting the very first Chippy Pride event on 1st July 2023.
We have been delighted with the positive responses from our community, and the many businesses who will be decorating their shop fronts with the LGBT Rainbow. With awards for the best dressed shop window being decided on the 1st July, we can't wait to see Chippy's creations throughout June.
The event will run in the Town Hall, and the doors will be open from 10:30, with a formal opening by Mayor Sandra Coleman at 11:00. Join us for Live Music and talks throughout the day, hosted by Oxfordshire's well-loved performance artist, Lady B, who attended Chipping Norton School, and headlining at the end of the day, we are sure there will be lots of celebratory fun for you all at Chippy's First Pride.
Chipping Norton Sports Awards – 14th July 2023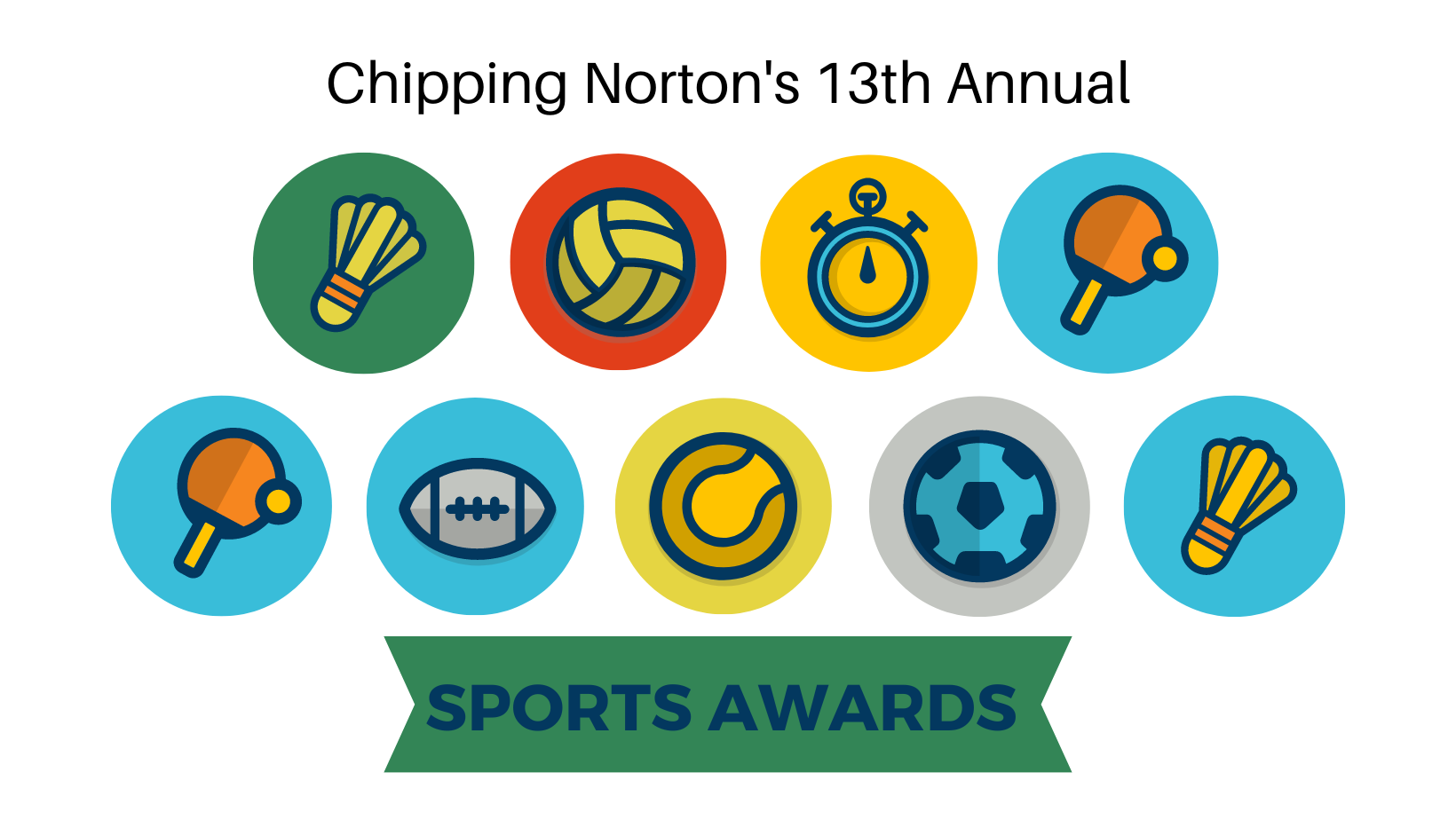 The nominations are open and we have had some great applications for The Annual Chipping Norton Sports Awards, taking place on 14th July in the Town Hall. 
The closing date for nominations is the 16th June 2024, please get your nominations in to the Facilities and Events Officer to ensure we all get to read about your very special sporty person and their achievements during the last 12 months.
For more information, and to nominate your local sporting here please click on the link below:
Keep Chippy Beautiful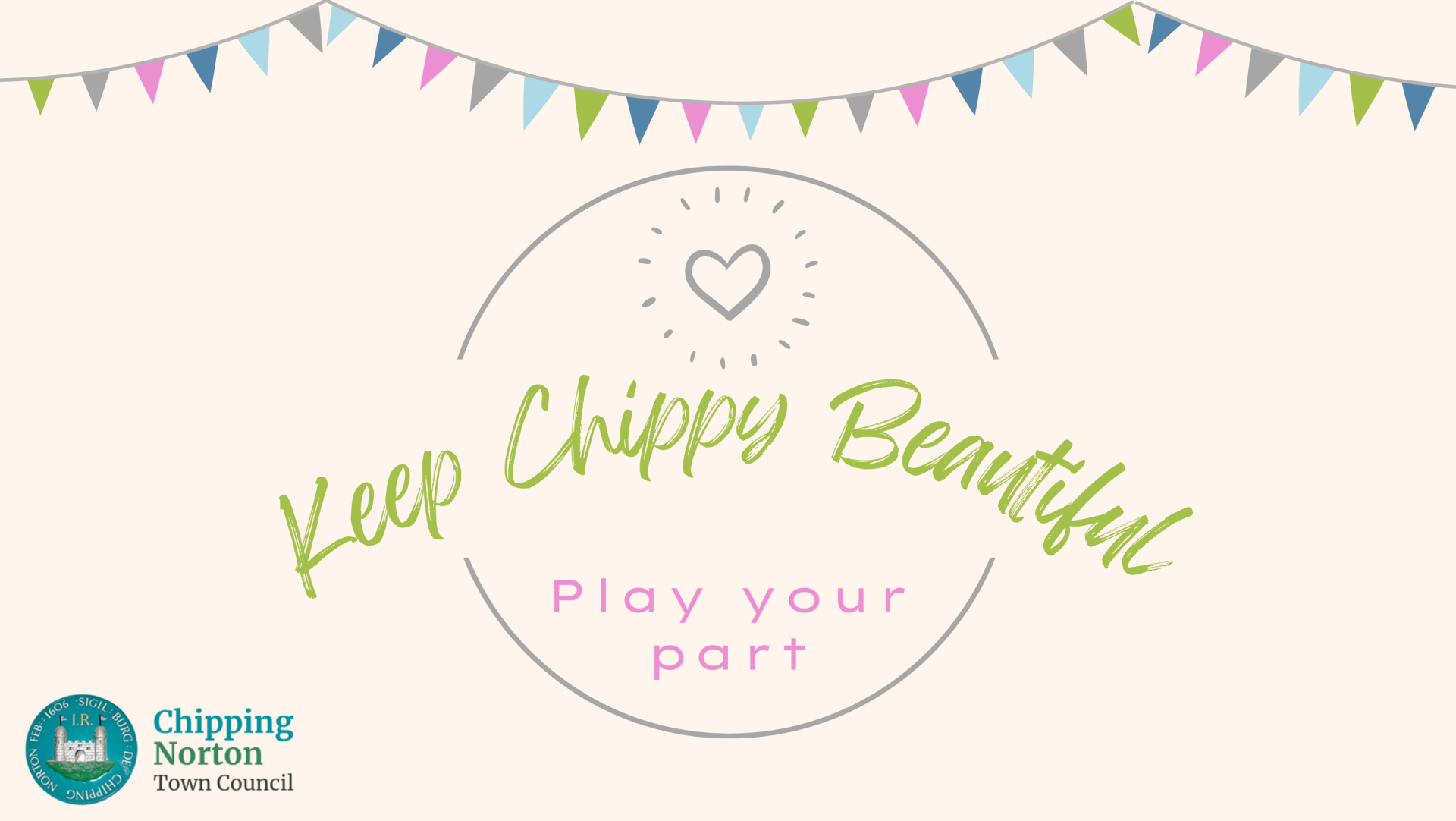 Chipping Norton Town Council recently launched the 'Keep Chippy Beautiful' initiative, and would love to hear from members of the community who would like to get involved.
We're planning on hosting a meeting for people to share ideas about how the community can be empowered to take pride in our town and work together to shape a shared vision of community action that everyone can participate in.
Thank you to everyone who has signed up so far. We will be in touch very soon!
If you would like to be involved, please click on the link below: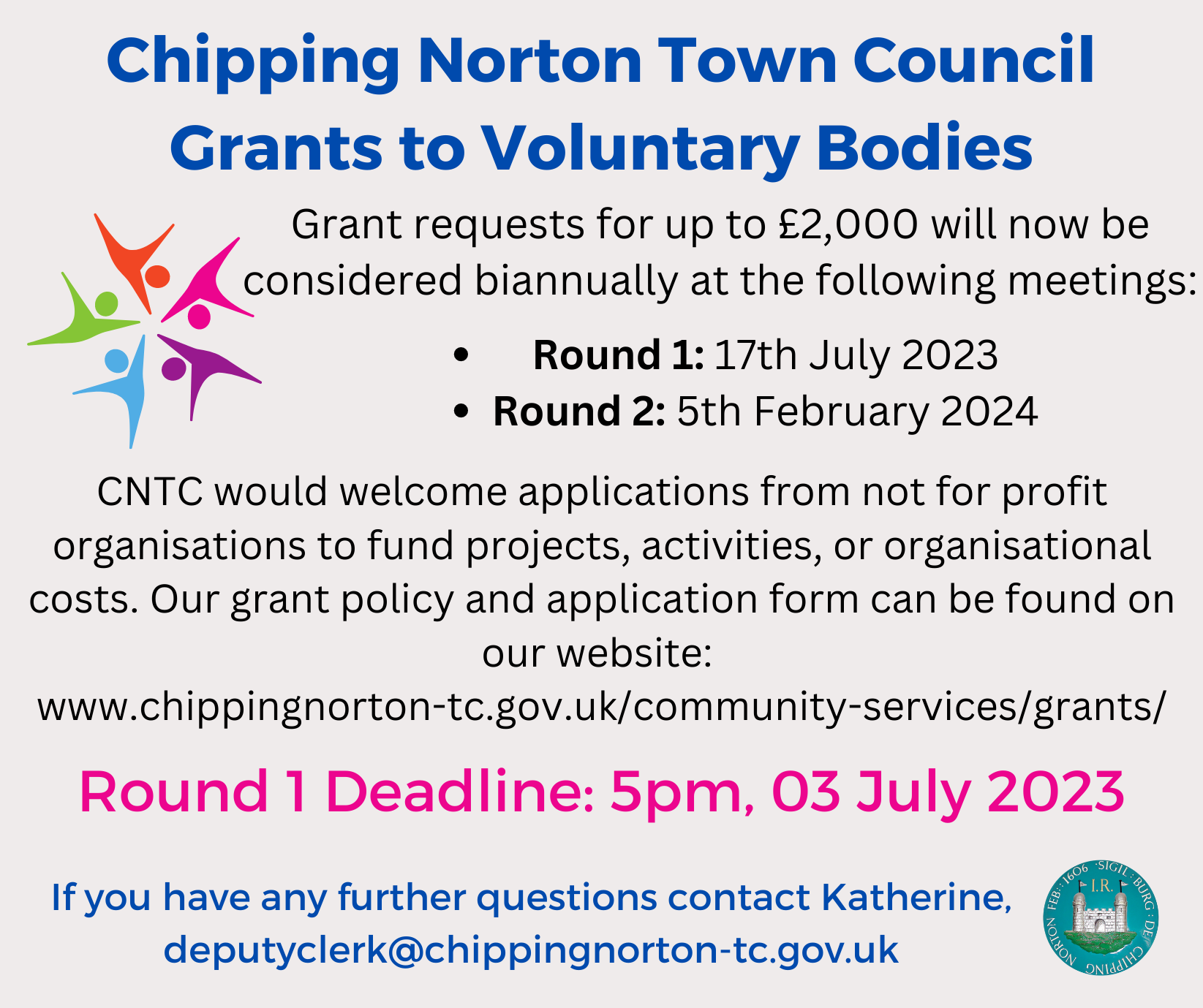 CNTC has revised the way we are reviewing grant applications. Instead of receiving and reviewing grant applications only once a year, we will now be reviewing them biannually at Finance and Resources Committee meetings on the 17th July and 5th February 2023. We are now accepting applications from community organisations! For the revised policy and application forms, please visit our Grants page:
Chipping Norton's Mayor and Deputy Mayor for 2023/2024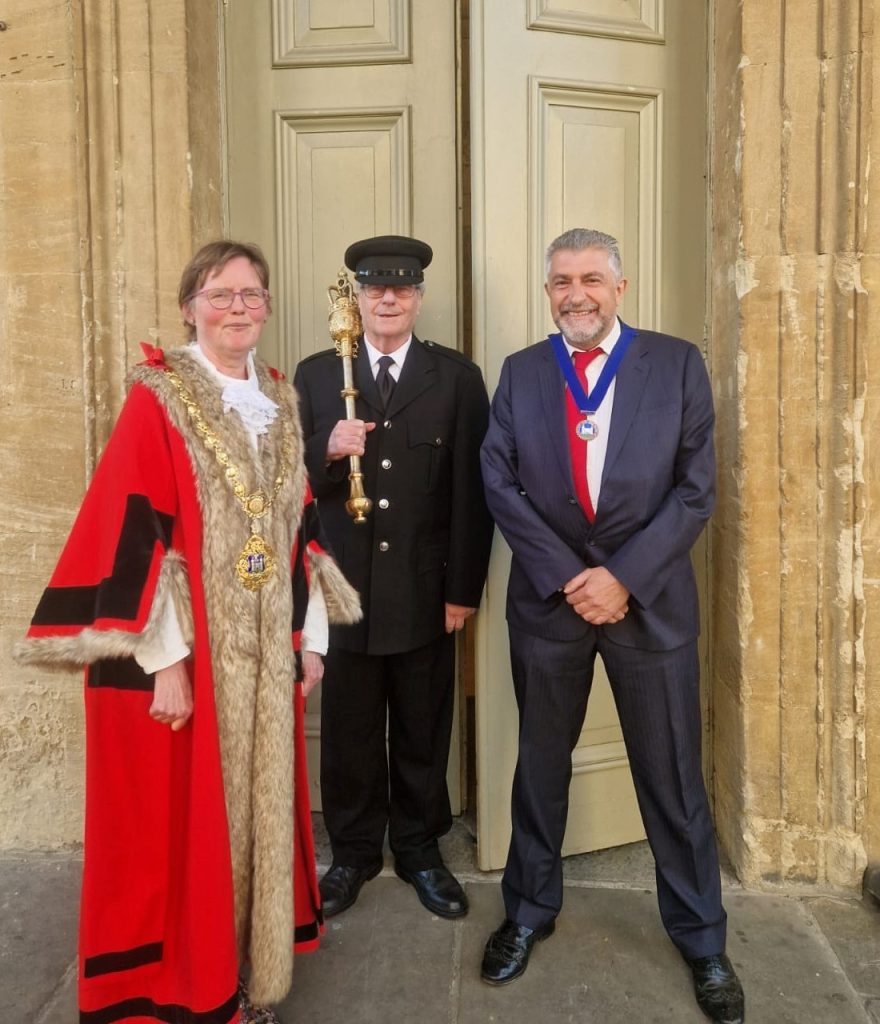 Cllr Sandra Coleman has been elected Mayor of Chipping Norton Town Council for a second year and says:
"I am extremely pleased to have been elected to serve as Mayor for a second time. This will give me the opportunity to build on relationships built over the past year and implement the projects we have started, including our current Town Hall project to refurbish and increase use of this iconic building, our scheme to improve biodiversity and footpaths at Pool Meadow, and continuing maintenance and improvement work across our playgrounds. I hope I have demonstrated this past year that I listen and respond to local people and will continue to do so. "
Cllr Steve Akers has been elected Deputy-Mayor for 2023-24. Cllr Akers shares his enthusiasm for the role:
"I am absolutely delighted to have been elected as Deputy Mayor and honoured by the opportunity to serve our community in this role. There is such a positive mood on the Town Council about all that we are achieving and the exciting projects that are in the pipeline. My aim will always be to serve the many, and not the few, in these very difficult times for so many during the current cost of living crisis. I am especially proud that we are supporting and hosting the first ever Chippy Pride on 1 July"
You can contact staff and Councillors here:
Get involved
Do you have skills or experience that might be useful in our discussions about the ECN development? Or just feel that you would like to contribute? To join the Build Chippy Better group, please contact Katherine on: deputyclerk@chippingnorton-tc.gov.uk
As part of our work in securing a Local Cycling/Walking Infrastructure Plan (LCWIP) for Chipping Norton, we're very keen to hear from people with disabilities or mobility difficulties about the areas of the town that are particularly difficult for them to navigate. Again, please contact Katherine on: deputyclerk@chippingnorton-tc.gov.uk with your views.
Dates for your diary
2nd June, 7pm, Upper Hall Chipping Norton Town Hall: The Lido Auction of Promises
Tickets available online
5th June, 6:30pm, Council Chamber Chipping Norton Town Hall: Strategic Planning Committee
12th June, 6:30pm, Council Chamber Chipping Norton Town Hall: Finance and Resources Committee
17th June, All Day, Upper Hall Chipping Norton Town Hall: Oxfam Record Fair
19th June, 6:30pm, Council Chamber Chipping Norton Town Hall: Full Council
20th June, 10am, Millennium Garden: Raising the Refugee Nation Flag
24th June, 10am, Millennium Garden: Raising the Armed Forces Flag
27th June, 6:30pm, Upper Hall Chipping Norton Town Hall: Business Buzz Charity Bingo
29th June, 2pm, Council Chamber Chipping Norton Town Hall: Traffic Advisory Sub-Committee
Sign up to receive our monthly newsletter by email